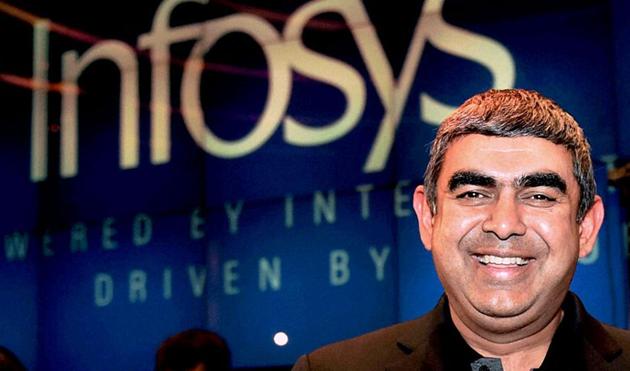 Vishal Sikka warns Infosys employees of tough road ahead
Vishal Sikka, chief executive of India's second largest software services exporter Infosys has cautioned the company's 200,000-odd employees of the challenging time ahead for the $10 billion company. In his new year message to the company's employees, Sikka who has completed a little over two years at the helm of Infosys wrote "not just mechanically execute the jobs we are handed" and "there is a long way to go, and the road ahead is long and not easy."
Hindustan Times | By Kalyan Subramani
, Bengaluru
UPDATED ON JAN 04, 2017 12:44 AM IST
Vishal Sikka, chief executive of India's second largest software services exporter Infosys has cautioned the company's 200,000-odd employees of the challenging time ahead for the $10 billion company.
In his new year message to the company's employees, Sikka who has completed a little over two years at the helm of Infosys wrote "not just mechanically execute the jobs we are handed" and "there is a long way to go, and the road ahead is long and not easy."
He further said, "We must remember that operational excellence is an imperative for each one of us. We must focus on delivering the best solutions in the smartest, fastest way possible, and not give up or give in to weaker instincts."
Sikka, since he took charge of the company in August 2014 has been stressing on automation and innovation that he expects will drive the company's future growth, currently facing many challenges.
"Often teams deliver only what is told without going beyond the given scope and with a lackadaisical attitude towards greater value creation. This can no longer be the case," he wrote.
He also warned that big political changes across the world like Brexit (Britain exit from European Union in June this year), US Presidential election that saw the victory of Donald Trump as the 45th President of the US are not as big a disruption as changes in technology and digitization.
"Brexit, the American Presidential election, demonetization, cyber security, the refugee and terrorism situation were the events that seriously changed the way we viewed the world, but perhaps that biggest disruption is the one that has been proceeding irreversibly and unstoppably in our times is the accelerating force of technology and digitization," he wrote.
"We will not survive if we remain in the constricted space of doing as we are told, depending solely on cost-arbitrage, and working as reactive problem-solvers," he said.
Sikka's warning also comes at a time when double digit revenue growth over the last two quarters has come under severe pressure. All major IT companies including TCS, Infosys and Cognizant have in the recent past have either indicated or have clearly stated that the growth for the rest of the year will be muted at best, with some like Infosys and Cognizant even revising the revenue guidance for the full year to a little less than 10%. Recently Nasscom had revised the overall revenue growth forecast for the industry to 8-9% from 10-12% it had guided at the start of the financial year.
Infosys will be announcing its third quarter results for the current financial year on January 13.
Close