Budget 2023: Sensex jumps by 1,078 points after FM's speech; Nifty nears 18,000
Feb 01, 2023 01:05 PM IST
Budget 2023: Sensex jumps by 1,078 points after FM's speech; Nifty nears 18,000
Sensex jumped by 1,078 points after Finance Minister Nirmala Sitharaman's budget speech in Parliament. The National Stock Exchange index Nifty too rose to inch towards the 18,000 mark.

Earlier in the day, the Bombay Stock Exchange index had jumped by 640 points amid the finance minister's speech.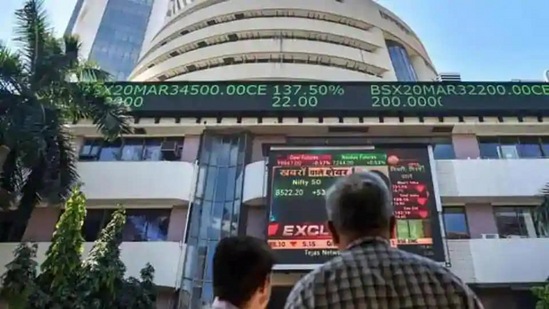 Finance Minister Nirmala Sitharaman said the government will spend 10 trillion rupees ($122.3 billion) on longer-term capital expenditure in 2023/24, extending a strategy adopted to revive growth in the aftermath of the COVID crisis.
She also raised the rebate limit for personal income tax to 700,000 rupees from 500,000 rupees, sending shares higher.
India's federal government cut down the fiscal deficit target to 5.9% of GDP in the next financial year, compared to 6.4% for the current fiscal year.
This is the last full-year budget before the national elections in 2024 and key state elections later this year.
Banks and financials were the top gainers among the 13 major sectors, rising 1.5% and 1.6%, respectively.
India has pegged its economic growth at 6-6.8% in the 2023/24 fiscal year, the slowest in three years, at its pre-budget economic survey released on Tuesday.
Shares of seafood company Avanti Feeds Ltd and Coastal Corporation rose 5.8% and 4.8% respectively after Sitharaman announced plans to raise spending on the fisheries sector.
Meanwhile, most Adani Group stocks dropped, extending their losses since short-seller Hindenburg Research's report and despite the group completing a $2.5 billion share sale a day earlier.