Cheap Chinese steel: If you can't deal with it, call it dumping
Published on Apr 13, 2016 10:40 AM IST
Tata Steel's UK business is up for sale as it could not compete with cheap Chinese competition. HT decodes dumping and how it's not just about China.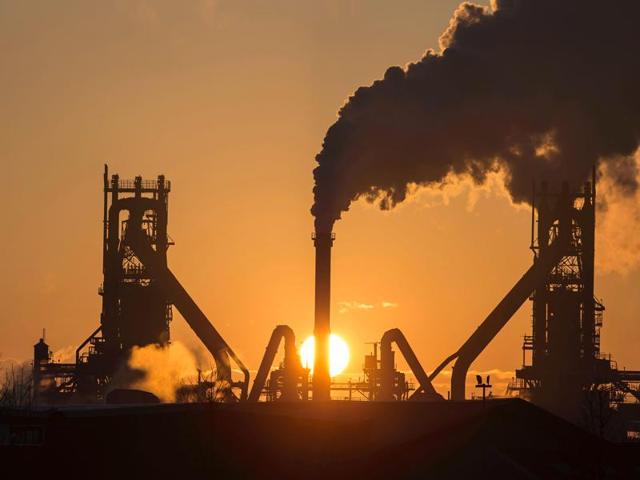 Hindustan Times |
B Sundaresan
Tata Steel's UK business is up for sale as it could not compete with cheap Chinese competition.
HT decodes dumping and how it's not just about China.
What is dumping?
Dumping is the process exporting goods at a price lower than what a company can fetch in its domestic market. For example, a baker sells a loaf of bread for Rs 100 but because there are no buyers in India, the loaf of bread is exported to another country for Rs 90. This is will be called dumping by that country.
Why would someone sell the product cheaper?
The retail price includes the profit margin of the seller. The loaf in the previous example may have been produced for Rs 80 with the profit margin being Rs 20 a loaf. The baker cuts down on his profits when he exports the loaf for Rs 90.
If the seller is ready to reduce the price, won't the products sell in the domestic market itself?
Exporters dump products when they cannot sell products in their domestic markets even after slashing costs. This happens when domestic demand is very low.
China, which is flooding the world with its cheap steel, is doing so because there no domestic buyers.
Why can't China reduce prices so that domestic buyers increase?
The prices are already down. One of the reasons is that China accounts for half of the world's steel capacity of 1,600 million tonnes (MT) per year and a slowdown in has meant that even low-priced is not being bought domestically.
The situation is such that the Chinese government recently announced that it will slash 1.8 million jobs in the coal and steel sector in order to reduce capacity, which is expected to come down to 700 million tonnes this year.
So China is exporting excess capacity across the globe?
Yes. China exported 112 MT of steel in 2015. This is 25% more than India's total production of steel. Most of the countries to which China exports its steel say that the country is dumping the product leading to adversely impacting their domestic industry.
Tata Steel, which has begun the process of selling its UK operations, said one its business in Europe were affected due to cheap Chinese imports flooding the continent.
But what is wrong with China dumping cheap steel?
From the point of view of free trade, nothing as China should have the liberty to sell its products at whatever price it wants. But the problem arises when domestic industry of importing countries is not able to compete with cheap imports.
The commerce ministry has noted in its anti-dumping guide that "there is nothing inherently illegal or immoral about the practice of dumping. However, where dumping causes material injury to the domestic industry of India" it may require imposition of anti-dumping duties.
How is material injury determined?
Material injury is said to occur if the domestic industry suffers reduction of production (called volume effect) or depression in price (called price effect) due to a rise in imports.
Some indicators that can be used to establish material injury are: decline in output; loss of sales or marketshare; decline in profits or productivity and reduced return on investments.
Importantly, a causal link must be established between dumping and injury.
Is our steel industry materially injured?
India produced 92 MT of steel in 2014-15, while it imported over 9.32 MT of steel. But all of these imports cannot be termed dumped. However, almost 30% of the imports come from China and are priced relatively cheap.
Indian manufacturers such as JSW, SAIL and Essar have written to the commerce ministry claimed that these imports were undercutting margins and anti-dumping duties should be imposed on them.
Since, anti-dumping is determined by a country under request from its industry, some experts these duties have been compared to "protectionism of industry" as consumers cannot benefit from lower prices.
What has the government done to curb dumping?
A Reuters report on Monday said that investigations have been initiated into dumping of steel by six countries including China, South Korea and Japan.
The government has already imposed minimum import prices on 172 iron and steel commodities in the range of $340-750 per tonne. Also, a safeguard duties ranging between 10-20% are in place in addition to anti-dumping duties in the range of 4.5-57% on different steel products.
What is the international practice on dumping?
Imposition of duties is allowed by the World Trade Organisation under the General Agreement on Trade and Tariffs (GATT) if dumping is established.
However, anti-dumping duties need to be lifted if the margin between the domestic price and imported price (called dumping margin) is less than 2% or when the imports of product from a country account for less than 3% of total imports of the product.
According to WTO, safeguard and anti-dumping duties cannot be country-specific. Therefore, when we impose duties on imports from China, it can also impose duties on imports from India in order to compensate for the loss. Countries can contest these duties at the WTO.
Is China the only country that is dumping goods in India?
No. India has initiated 690 cases of anti-dumping investigation against China, European Union, South Korea, Thailand and USA and 16 other countries. China accounts for the highest number of imposed duties at 134 out of a total of 535.
Also, apart from steel products such as tiles, tyres, jute bags, plastic processing machine etc also carry anti-dumping duties.
Interestingly, India itself is under investigation for anti-dumping duties on stainless steel bars, paper products and tyres in the United States.
Personalise your news feed. Follow trending topics