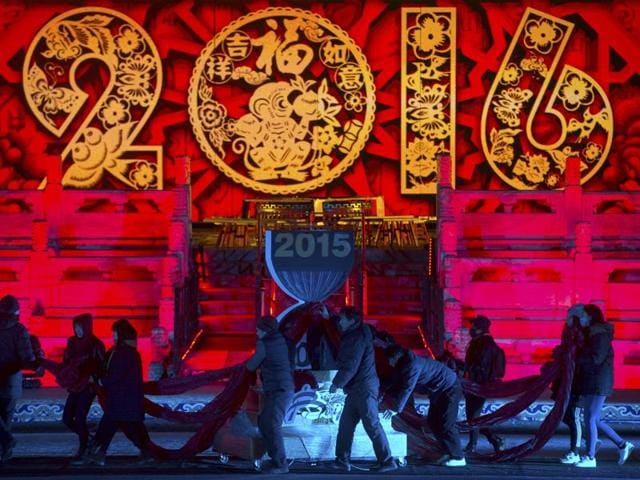 Hopeful numbers in new year, but beware of unknowns
2015 will be counted as a standout year for the Indian economy: it cemented its place as the world's primary growth engine, outpacing neighbouring titan China.
Hindustan Times | By Gaurav Choudhury
PUBLISHED ON DEC 31, 2015 11:10 AM IST
For the sake of analysis, it is sometimes useful to slice the world into two broad groups: those that are accelerating and those that are slowing. With a real GDP growth rate of 7.5%, one doesn't need to pore through reams of statistics that official number crunchers put out to find out in where India would be placed in such a grouping.
At least in this respect, 2015 will be counted as a standout year for the Indian economy: it cemented its place as the world's primary growth engine, outpacing neighbouring titan China.
Regardless of the criticism about the new national income statistics, there are a few markers that indicate that the Indian economy may have turned the corner. An expansion of 9.3%, in the manufacturing sector, which accounts for about three quarters of India's industrial output, would indeed appear that factories are turning out goods faster than before.
There are also signs that investments may have picked pace. Gross fixed capital formation (GFCF), a proxy to measure investment activity, has grown to 30.1% of GDP compared to 29.8% in the previous quarter.
The Reserve Bank of India (RBI), which conducts its own surveys, is also of the view that there were clear signs of companies reporting strong decline in built-up inventories, particularly for finished goods. If stocks are travelling out at a faster clip from factory warehouses, it is an apparent sign that households are spending more.
Not all pointers though are as bullish and it would be foolhardy to ignore these red flags.
Two years of back-to-back droughts appears to have hurt farm incomes and this is showing in shop-end data in villages. For instance, while passenger vehicle sales in cities have shown a steady rise in the last couple of months, rural demand have taken a hit, primarily because of deficient monsoons and muted construction activity.
There are three variables that will likely influence the Indian economy's expansion in the coming months: speed of reforms, people's spending and the rupee's value.
First, India's ability to push the growth curve back to levels above 9% will critically depend on speed of reforms and the government's ability to implement promised changes to ease rules of doing business. Finding a way out of the Parliamentary logjam to push through key legislations for goods and services tax (GST) and labour reforms is absolutely essential.
Second, the 7th pay commission recommendations will likely result in higher consumption by the government's massive employee base, who account for a large segment of the Indian middle-class. More demand could boost the economy through higher spending on assets, such as cars and housing.
Such a stimulus, however, comes bundled with fiscal risks that can upset the Centre's balance sheet by forcing it to borrow more.
Third, one cannot be quite sure which way the rupee will swing in the coming months. No policymaker can take the currency as a constant. The rupee's value will be primarily be determined by factors: the pace of the interest rate hike in the US and oil prices. A faster-than-anticipated rise in interest rates in the US can precipitate the rupee's slide. Also, at some point in the coming months, crude oil prices could start moving north from its current historic low levels. This can hurt the rupee by pushing up the oil import bill.
In the trinity of problems—reforms, consumer spending and rupee—the choice for any policymaker is limited. For a net importing nation like India, halting the rupee's fall can eventually turn out to be most critical known unknown.
Close