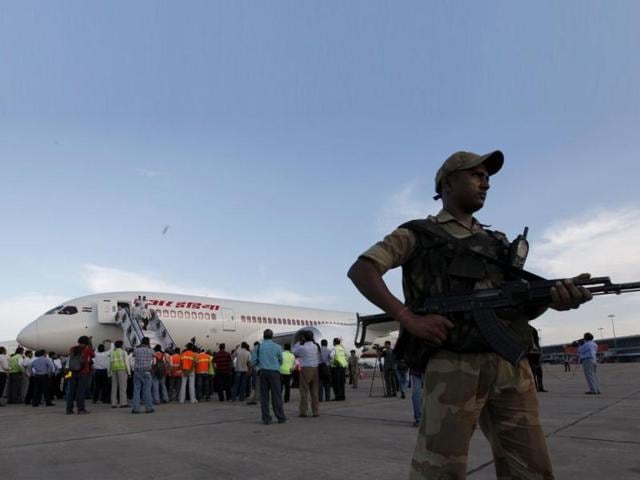 It's not very safe to fly around in India
On January 5 this year, an Air India flight from Guwahati to Delhi with over 100 passengers on board was diverted to Jaipur due to blinding fog in the Capital. The aircraft made a rough landing in Jaipur with sparks flying from one of its wings.
Hindustan Times | By Tushar Srivatava
UPDATED ON MAR 08, 2014 07:41 AM IST
On January 5 this year, an Air India flight from Guwahati to Delhi with over 100 passengers on board was diverted to Jaipur due to blinding fog in the Capital. In low visibility and with little fuel left, a full emergency was declared as the A320 descended into Jaipur airport.


The aircraft made a rough landing in Jaipur with sparks flying from one of its wings. The pilots managed to bring the aircraft to a halt but the plane's wing had been damaged and a tyre had burst.
"Thank goodness we are all still alive," announced the pilot as the plane came to a halt.
Read: AI's Dreamliner nightmares: Cracked windshields, equipment failures, snags
"We didn't know how to react. There was stunned silence. The plane's speed seemed uncontrollable and we thought the plane would break into pieces," said a passenger who was on board.
Sources said that such was the damage to the aircraft that Air India has written off the plane. However, the incident, sources said, hasn't been declared an accident yet.
In aviation, an "accident" is one in which a person is fatally or seriously injured or the aircraft sustains damage or structural failure. Many other such incidents have gone unreported as well.
This precarious state of affairs could be why the Federal Aviation Administration, the US aviation regulator, downgraded India's aviation safety, experts said.
"If India's aviation ministry thinks that India's safety record is better than the US's then they need to stop smoking whatever it is they are smoking and get with the real world," said Saj Ahmad, a London-based aviation analyst.
Read: Air India to use proceeds from Boeing 777 sale to pay off loan
Then, Air India's latest acquisition, the Boeing 787 Dreamliner, has been giving the airline and the authorities a severe headache ever since it was introduced into service in September 2012.
"The unending glitches affecting AI's 787 is worrying and is something that Civil Aviation Safety Advisory Council (CASAC) would have definitely taken up," said a CASAC member who did not wish to be named.
CASAC, formed in the aftermath of the deadly Mangalore crash of 2010 that claimed 158 lives, "to strengthen aviation safety environment" hasn't held a single meeting for over a year. In its last meeting held on February 22 2013, the minutes of which are with HT, it had been decided that the council would meet within two months.
"Since that meeting, the aviation secretary has retired and Directorate General of Civil Aviation (DGCA) has got a new chief and everybody has forgotten about CASAC," he said.
The 787 is one aircraft which has left both its operator Air India and the regulator flummoxed.
"For a brand new plane to suffer such glitches is unheard of and is very scary," said an AI 787 pilot, who spoke on condition of anonymity.
"Every other day we hear a new bizarre 787 story. Failure of flight management computers (that control navigation) and transponders (that give collision warning and can be used in cases of hijack to send alerts) and windshield cracks don't happen in a new aircraft," he said.
For passengers, too, the Dreamliners have become a nightmare many would like to forget. "Twice, I had to miss out on important meetings as the 787 I was scheduled to fly on developed snags. First, it was a Melbourne-Delhi flight that made an emergency landing in Kuala Lumpur sending my schedule haywire, while the next was a Birmingham flight that didn't take off. Now, I have decided to check which aircraft I fly before I book tickets," said a senior executive of a multinational company on his 787 experiences.
"We summoned Boeing officials last week and told them to fix the problem at the earliest or otherwise we would be forced to act," said a DGCA official.
Going by official records, however, there have been only two accidents in India between 2009 and 2012 compared to 105 reported in the US during the same period. This, many believe, is because most domestic carriers have not been reporting serious incidents to the aviation regulator.
There have been many instances when the DGCA has been tipped off about incidents by other sources as the airlines weren't forthcoming enough.
"All airlines are involved in the cover up," said Captain Mohan Ranganathan, one of the country's best known aviation safety experts and a member of CASAC.
In September 2013, passengers on board an IndiGo flight from Delhi had a miraculous escape when the aircraft skidded on landing at Bangalore airport and damaged some runway lights. The airport had to be shut down for a few hours, resulting in several diversions and delayed fights. The aircraft had to be taxied off the runway.
On March 9, 2013, an IndiGo aircraft skidded while landing in Mumbai damaging runway lights. Four years earlier, on April 17, 2009, a Jet Airways flight had done the same at Bangalore airport and broken two runway lights.
Air India and Jet Airways did not respond to mails from HT. An IndiGo spokesperson said, "The incident was duty reported to DGCA as per rules. There is no question of not informing the DGCA."
Close