Perfect 100 score in languages promotes cramming, say experts
All over the country, 2,758 students scored full marks in Sanskrit, 1,820 in English communication, and 24 in English language and literature.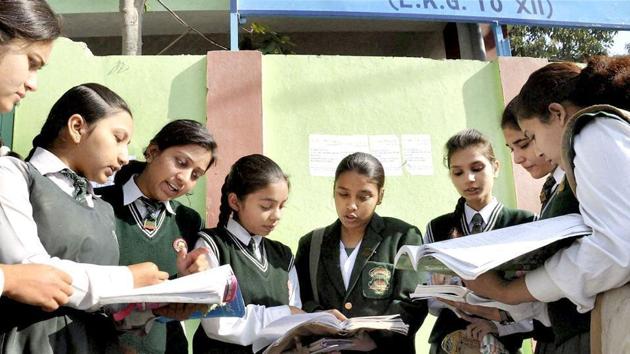 Updated on May 10, 2019 08:39 PM IST
Hindustan Times, Chandigarh |
, Chandigarh
Arshdeep Arshi
A day after the declaration of Class 10 results by the Central Board of Secondary Education (CBSE), experts on Tuesday said that the perfect 100 score is unjustifiable in languages, saying that it promotes cramming.
As per the data of the results announced by the educational board, a number of students scored a perfect 100 in different subjects, including languages.
Across India, 2,758 students in Sanskrit, 1,820 in English communication, 24 in English language and literature, 980 students in Hindi course A, 1,290 in Hindi course B, 462 in Marathi, 232 in French, 173 in Bengali, 77 in Punjabi, 73 in Malayalam, 55 in Arabic, 20 in Urdu course A, 17 in German and 11 in Kannada, scored full marks.
Former National Council of Educational Research and Training (NCERT) director Krishna Kumar said, "This trend has been going on for quite a few years now. This culture of right or wrong and 'model answers' promotes cramming. The students' own way of writing/thinking is not appreciated in this system. It is unfortunate and has been widely critiqued but since 2009-10, the CBSE has gone on to follow this pattern."
"The sensibilities that should be examined are not being examined," he said.
Chairperson of the School of Punjabi Studies, Panjab University (PU), Yograj Angrish, said, "The language and literature are being taught simply on the pattern of grammar and multiple choice questions. The purpose of teaching literature is being defeated. Students know the correct answers from books but not their meaning."
Objections to checking guidelines
Talking about the evaluation of papers after the CBSE examinations, former chairperson of the department of English, PU, Rana Nayar, said, "The examiners are given instructions to the effect that if an answer is along the expected line and the student manages to reproduce some of the phrases and words even if the grammar is incorrect, she/he has to be given full marks."
"This is giving a false idea to the students that they can score 100 in languages; this can never happen. If one has a 100% competence in languages, what else would one need? When these students come to universities, they cannot express themselves in a very effective manner," Nayar said.
Nayar also said that he was not in favour of giving 100 marks to students in language subjects. "The performance of a student has to be judged by expression, language skills, grammar and several other aspects. This standardisation of all subjects cannot go on. There is no justification for giving 100 marks in languages," he said.
Close Story