TikTok star Sonali Phogat takes on Kuldeep Bishnoi in his family bastion
A native of Bhutan Kalan in Fatehabad, Sonali Phogat, BJP candidate from Adampur assembly constituency, has 1.51 lakh followers on TikTok, a social media app.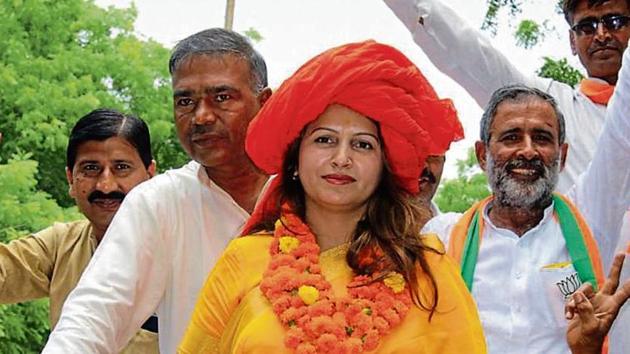 Updated on Oct 06, 2019 11:28 AM IST
Sonali Phogat, 40, the BJP's Adampur candidate, is an internet sensation who is leaving nothing to chance as she begins door-to-door campaigning against her Congress rival and former chief minister Bhajan Lal's younger son, the 51-year-old Kuldeep Bishnoi.
Having started her career as a television anchor with Doordarshan over 20 years ago and then having explored the film industry and gaining social media popularity along the way, Phogat has finally taken the plunge in politics from the Adampur constituency that has been represented by Bhajan Lal and his family for the past 52 years.
A native of Bhutan Kalan in Fatehabad district, Phogat has over 1.51 lakh followers on TikTok, a social media app for creating and sharing short lip-sync, comedy, and talent videos. It is this popularity that the saffron party hopes to cash in on while taking on the Bishnoi family.
Her opponents, meanwhile, have already started challenging her. Reacting to her nomination, Kuldeep Bishnoi said the people of Adampur will welcome her wholeheartedly but she cannot expect to get any votes from them.
Phogat, however, remains unfazed. Responding to Bishnoi, she says that she is ready to withdraw her nomination papers if he promises to stay with the people of Adampur. "Everyone knows where Kuldeep Bishnoi stays. But I promise that I will stay with the people of Adampur and work for them round-the-clock," she says.
She adds that she is amazed how people even in remote villages of the constituency recognise her, and hopes this will help her win the election.
Ask her what got her interested in politics, she is quick to credit MP Sumitra Mahajan. "In 2013, I met MP Sumitra Maharaj and was impressed by what she had done for the people of her constituency. Inspired by her, I decided to become an MP and joined the Bharatiya Janata Party," she says, adding, "The senior leaders of the party then asked me to start working from Hisar."
She adds, "My name was pitched to senior leaders even for the 2019 Lok Sabha elections but I did not get a ticket then. But now, the party has trusted me with the Adampur seat."
Sonali has also served as the regional director of Haryana Kala Parishad, Hisar, and is the vice-president of the party's state unit women's wing. Her husband Sanjay Phogat passed away in 2016 due to a heart attack.
Close Story