Doctor with no foreign travel history infected with Omicron: Karnataka govt
BBMP commissioner Gaurav Gupta told HT that patient number two didn't have any contact with the South African national. The report on patient number two says that he is a 46-year-old resident of Bengaluru and was working as a health care worker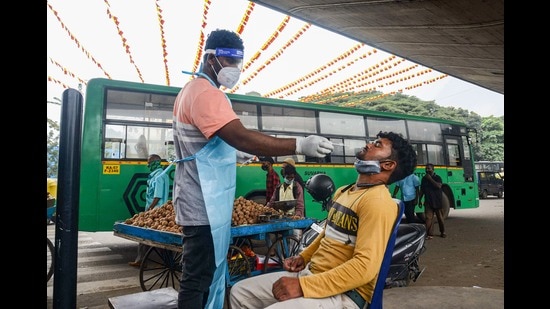 Published on Dec 03, 2021 01:00 AM IST
Officials of the health department and Bruhat Bengaluru Mahanagara Palike (BBMP) remain clueless about how a person got infected with the Omicron variant of the coronavirus any history of international travel.
Unlike other infected person, who travelled from South Africa, where the variant was first detected, patient number two is a local resident and doesn't have any history of international travel, Karnataka health minister Dr K Sudhakar said.
As per the chronology given by the BBMP, the first case of Omicron reported in Karnataka was that of the 66-year-old South African, who arrived in Bengaluru on November 20. He tested positive for the virus on the same day, and he was isolated. BBMP reports read that none of his 24 primary contacts and 240 secondary contacts tested positive for the virus.
BBMP commissioner Gaurav Gupta told HT that patient number two didn't have any contact with the South African national. The report on patient number two says that he is a 46-year-old resident of Bengaluru and was working as a health care worker.
Health minister Sudhakar further confirmed that he was a doctor working with a private hospital in the city. He developed fever and body ache on November 21 and tested positive the next day. Since he had a low CT value (which indicates a high viral load), his sample was sent for genomic sequencing.
When asked how patient number two got the new variant without travelling abroad or coming in contact with South African national, Sudhakar said: "The patient must have come in contact with someone with travel history. We are still tracking it." The BBMP commissioner refused to comment on the issue.
The government has also confirmed that the patient was in home isolation between November 22 to 24 and on November 25, he was shifted to a hospital. However, he was discharged on November 27.
The patient number two had 13 primary contacts and 205 secondary contacts. Out of which, three primary contacts and two secondary contacts have tested positive for Covid. They are currently at a government hospital, and they are not showing any severe symptoms.
A senior health department official, who spoke on the condition of anonymity, said the department or the BBMP doesn't have any information about the source of the variant.
"We believe the answer for this question could be found in the contact tracing. He will verify if any of the patient's contacts have travelled abroad," he said.
However, K V Thrilok Chandra, special commissioner, BBMP (health), told HT that none five contacts of patient number two have any travel history. "As of now we don't know how he (patient number two) got the new variant," said Chandra.
A member of Karnataka's technical advisory committee said it was possible that variant must have entered the state before restrictions were put in place.
"It is conjecture at this point, and it would be difficult to give a definite answer. Since all patients and their contacts have no history of travel, we can also assume that the variant must have come early. But there is no need to panic. There is no evidence suggesting that this variant is deadly. So, we should focus on handling this variant," said the doctor who didn't want to be named.
Close Story
Personalise your news feed. Follow trending topics