Karnataka hijab row: The controversy explained
Mar 15, 2022 02:46 PM IST
Hijab Row Verdict: It is not an essential religious practice in Islam to wear a hijab, the Karnataka high court said, upholding the February 5 government order for educational institutions.
The Karnataka High Court on Tuesday dismissed a clutch of petitions challenging a government order barring hijabs (headscarves) in schools and colleges in the state. A three-member bench led by Chief Justice Ritu Raj Awasthi said the wearing of hijabs is not 'essential religious practice' in Islam and that students could not object to 'reasonable restrictions' in the form of uniforms. The court upheld the state's February 5 'incompetent and manifestly arbitrary' order and said it did not violate constitutional provisions.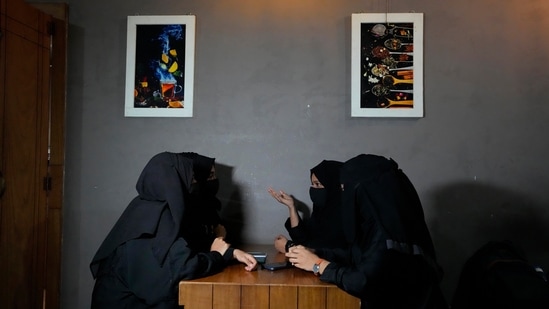 One of the petitions was filed by five Muslim students from Karnataka's Udupi district, who were among six stopped from entering classrooms in December because they were wearing hijabs.
Stay tuned with breaking news on HT Channel on Facebook.
Join Now
"We are of the considered opinion that wearing of hijab by Muslim women does not form a part of essential religious practice in the Islamic faith," Chief Justice Ritu Raj Awasthi said.
The bench also maintained there was no case for invalidation of the Basavaraj Bommai government's Feb 5 order, which banned "clothes that were against law and order". Five days later the High Court temporarily banned all religious outfits while it heard the petitions.
READ: Karnataka hijab row: Students to move Supreme Court
What is the issue about?
In December a government school in Udupi district barred six students from entering the classroom because they were wearing hijabs. As the controversy spiralled, students from a college in Mangaluru district made similar claims.
Slowly more students across Karnataka spoke up as schools imposed curbs. Muslim students said they were being deprived of their fundamental rights to education and religion.
The sparked counter-protests led by fringe Hindu groups and soon a section of students and others were engaged in a hostile stand-off with those protesting the hijab ban.
The Hindu groups began wearing saffron shawls and scarves that underlined the communal tension behind the incident.
The protests soon spread to other districts and even outside Karnataka, with reports of violence and stone-pelting.
Prohibitory orders were imposed in affected areas in Karnataka, including Udupi, Bengaluru, Shivamogga and Dakshina Kannada, and schools and colleges were briefly ordered to close.
READ: Karnataka hijab row: 3 questions the court asked (and the answers)
Earlier this week, before the court delivered its verdict, the Karnataka government once again banned large gatherings in Bengaluru 'to maintain public peace and order' and declared a holiday today for schools and colleges in Udupi.
The BJP - which is in power at the centre as well as in Karnataka - has faced widespread outrage on this issue.
MUST READ: Karnataka hijab row: Timeline of events
First reactions
Union minister Pralhad Joshi, the Parliamentary Affairs minister, welcomed the verdict. "I appeal to everyone that the state and country has to go forward… everyone has to maintain peace by accepting the order. The basic work of students is to study. So leaving all this aside they should study and be united."
READ: Karnataka hijab row: 'Absurd judges can decide...' - Owaisi
"I'm happy that the government's stand has been upheld by the Karnataka High Court. I request the girls who went to the court should follow the judgment, education is more important than any other things," state education minister BC Nagesh said.
On the other hand, Peoples Democratic Party (PDP) chief and ex Jammu and Kashmir chief minister Mehbooba Mufti said the decision was deeply disappointing. "On one hand we talk about empowering women yet we are denying them the right to a simple choice. It isn't just about religion but the freedom to choose," Mufti, the former Jammu and Kashmir chief minister tweeted.
(With inputs from South Bureau)