'Talk about love jihad, not roads or sewage': Nalin Kumar Kateel to BJP workers
Jan 03, 2023 06:37 PM IST
Karnataka BJP president Nalin Kumar Kateel has sparked a new controversy after asking his party workers not to talk about 'small issues' like roads and sewage but raise bigger issues like 'love jihad'.
Karnataka BJP president Nalin Kumar Kateel has landed himself into a controversy after his statements at a public gathering in Mangaluru faced backlash on Monday. Kateel was speaking to party workers at the 'Booth Vijaya Abhiyana' event when he asked them to focus on issues like 'love jihad' instead of speaking about sewage and roads.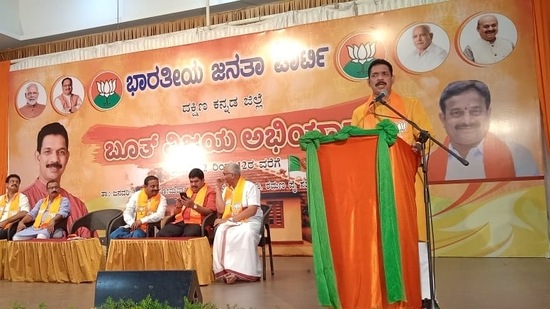 A video of the BJP MP's speech is making rounds on social media, in which he can be heard saying, "So I am asking you people, don't speak about small issues like roads and sewage. If you're worried about your children's future, and if you want to stop love jihad, then we need the Bhartiya Janata Party. To eliminate love jihad, we need the Bharatiya Janata Party."
READ | Kalaburagi station repainted from green to white after protest by right-wing group
While several Twitter users said that roads and connectivity are no small issues, the statements also received flack from the opposition Congress, with Karnataka Congress chief D K Shivakumar saying that Kateel has given 'a very bad message'.
"This is a very bad message. This is proof that they are trying to spread hatred and break up the country rather than giving priority to development. While we are focusing on development, job creation, hunger, price rise, they are just playing people on emotion," DK Shivakumar said.
Karnataka is due for an assembly election around April - May this year, and the poll-bound state has witnessed increasing instances of moral policing and communal clashes, specifically in the Dakshina Kannada region.