Fire in shop: Fire dept officials fail to fix dangling power cables
Jan 29, 2023 01:06 AM IST
The fire started from the ground floor of the shop and spread in the entire triple story building. However, the shutter of the shop got shut with the heat of flames which prevented the flames to spread in nearby shops
: Fire in a textile and hosiery shop in Wait Ganj here on Friday has brought to the limelight the negligence of authorities in addressing the hazardous issue of tangled and dangling power cables.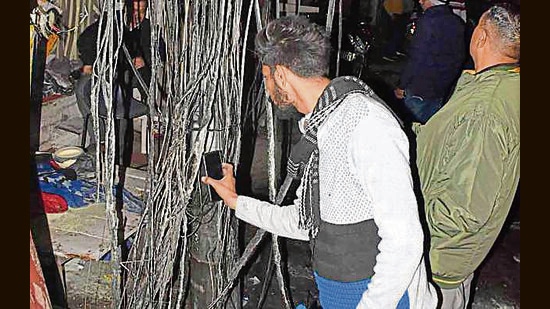 The cause of the fire is believed to be a short circuit. Shopkeepers in the market observed the smoke coming out of the shop and rushed to help the owner of Shivaay Knit Fab to douse the flames.
Vaibhav Gulati, 28, owner of the shop, said, "our factory has been operating in Bajwa Nagar for 50 years, and we have stored jackets, pullovers, and other hosiery material in the shop."
Vaibhav alleged that fire broke out due to a short circuit in power cables. He also alleged that despite calling multiple times, the power supply was not shut on time.
"We are calculating our losses and in rough idea the material worth lakhs burnt into ashes," he said.
The fire started from the ground floor of the shop and spread in the entire triple story building. However, the shutter of the shop got shut with the heat of flames which prevented the flames to spread in nearby shops.
Anil Bajaj, a shopkeeper, said, "the incident took place around 6:30 pm. With God's grace the fire didn't reach my shop. The firefighters struggled to douse the flames due to congested streets."
Glass of an opposite shop- Miglani apparels- was broken due to the flames.
Vinod Miglani, owner of Miglani apparels said, "With the flames, our toughened glass broke, and our flooring also got damaged due to the heat. No one was injured in the incident."
Officials at fire office said, "We received a phone call at 7 pm. Four fire tenders were rushed to the spot. Fire tenders struggled to reach the spot due to dangling power cables and congested location."
"Only two fire tenders were used to control the fire. Fire fighters struggled for one and a half hour to douse the flames," said fire officials.
On contacting, executive engineer of the area Mandeep Singh said, "the short-circuit was internal it didn't take place in power cables outside the shop. The power supply was shut immediately after the information of fire was received."