Flash floods damage 41 lateral roads in Himachal
Published on Aug 10, 2022 12:35 AM IST
Rains and flash floods have caused damage to multiple roads, particularly in Chamba and Kullu districts in Himachal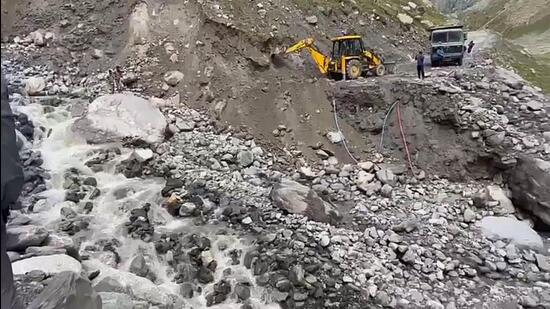 Rains and flash floods have caused damage to multiple roads, particularly in Chamba and Kullu districts in Himachal.
As many as 41 lateral roads in the state were closed on Tuesday due to landslides. Lightning also affected 25 transformers in Chamba district, leaving many villages without electricity for the second consecutive day.
At least 43 water supply schemes were hit due to the flash floods in Chamba.
"The restoration work is on war footing. Shortly, the electricity transmission lines will be made functional," said deputy commissioner of Chamba Dhuni Chand Rana .
The weatherman has predicted light to moderate rainfall for the next 24 hours in the state.