Ludhiana college student held for giving shelter to gangster Ravi Rajgarh
Feb 04, 2023 12:40 AM IST
Inspector Beant Juneja, incharge at CIA staff 2, said gangster Ravi Rajgarh had taken shelter at the Harshvir's house during his proclamation; the accused was aware that Rajgarh was wanted by the police, but he helped him in avoiding police and also helped him with money
Police have arrested a 21-year-old college student for allegedly providing shelter and monetary help to notorious gangster Rajvir Singh alias Ravi Rajgarh, a close aide of gangster Lawrence Bishnoi, who was wanted by the police in at least 12 cases.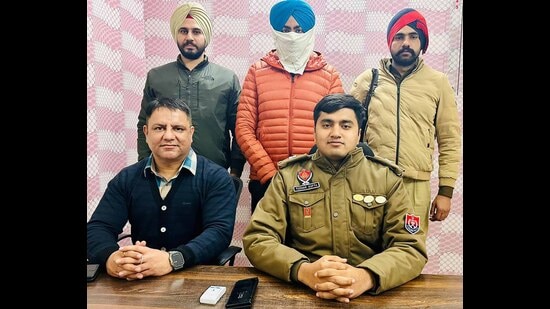 The accused has been identified as Harshvir Singh of Jhammat village. The CIA staff 2 of Ludhiana Police commissionerate on Thursday arrested the accused following a tip-off.
Harshvir Singh is studying Arts in a college in Ghumar Mandi. He lost his parents at a very young age and was living with his younger brother in the village.
Inspector Beant Juneja, incharge at CIA staff 2, said that Rajgarh had taken shelter at the Harshvir's house during his proclamation. The accused was aware that Rajgarh was wanted by the police, but he helped him in avoiding police and also helped him with money.
"The police came to know that around one month ago, Rajgarh along with a woman Gagan of Mohali had stayed at his home. We are investigating the woman and her relation with Rajgarh," said the Inspector.
"The police have arrested Harshvir near Barewal Canal following a tip-off. A case under sections 212 (Harbouring offender) and 216 (Harbouring offender who has escaped from custody or whose apprehension has been ordered) of the IPC has been lodged against the accused at police station Sarabha Nagar," he added.
However, the accused was bailed out on Friday.
Ravi Rajgarh, a resident of Rajgah village of Doraha, is facing trial in at least 12 cases – including murder, attempt to murder, and assault at various police stations. When he was lodged at Ludhiana Central jail in 2013, he had assaulted jail officials also. A case was lodged against him at Division number 7 police station in the matter. He was convicted in a 2011 murder case. He was sentenced to life imprisonment in the case. Rajgarh had a rivalry with Vicky Goundar gang. In September 2016, both the gangs had indulged in a clash in Ropar jail.
Rajgarh is an A-category gangster. He had given ₹25 lakh to Ludhiana-based transporter Baldev Chaudhary, who is already arrested in connection with providing weapons to shooters involved in the murder case of singer-politician Sidhu Moose Wala, to send Anmol, brother of notorious gangster Lawrence Bishnoi, to Dubai.
Rajgarh was arrested by anti-gangster task force (AGTF), Punjab on January 27.