National Lok Adalat: 1.7L cases from Punjab settled in Mohali
Mar 13, 2022 12:59 AM IST
Long-pending matters relating to matrimonial and property disputes, criminal compoundable cases were from Punjab were taken up at the National Lok Adalat in Mohali
The Punjab State Legal Services Authority (PSLSA) on Saturday organised a state-wide National Lok Adalat, through both physical and virtual modes, at the Judicial Courts Complex in Sector 76, Mohali.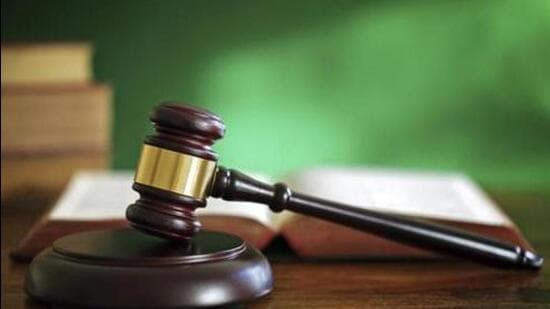 District and sessions judge and PSLSA member secretary Arun Gupta said 1,73,910 cases (pre-litigative and pending) were settled by a total of 447 benches under the leadership of Punjab and Haryana high court judge and PSLSA executive chairman justice Ajay Tewari.
Several long-pending matters relating to matrimonial and property disputes, cheque bounce cases, labour matters, criminal compoundable cases, cancellation/untraced reports of various FIRs were taken up.
Various awards were also passed with the consent of the respective parties. As per the provisions of the Legal Services Authorities Act, 1987, the court fee was ordered to be refunded.
People were also informed about the toll-free 1968 number to seek legal assistance and about the front offices set up at the district and taluka level on the premises of the courts, offering free legal aid.
1,748 cases disposed of at Chandigarh district courts
A total of 1,748 cases were disposed of by 15 benches headed by serving judicial officers at the National Lok Adalat held at the District Courts Complex in Sector 43, Chandigarh.
The cases included 10 criminal compoundable cases involving an amount of ₹2,000, 908, cases under Section 138 of Negotiable Instruments Act involving an amount of ₹2.65 crore, 20 motor accident claim cases involving an amount of ₹1.50 crore, 43 matrimonial/family disputes, 124 civil suits and rent cases involving an amount of ₹1.23 crore, besides 64 executions involving an amount of ₹99.31 lakh.
One case related to criminal revision, 99 arbitration cases involving an amount of ₹2.08 lakh, 251 traffic challans were also disposed of by imposing a fine of ₹4.8 lakh.
In addition, 224 cases involving an amount of ₹22.28 lakh were setteled by the Permanent Lok Adalat (public utility services), 38 pre-litigative cases involving an amount of ₹19 lakh, 18 labour dispute cases involving an amount of ₹9 lakh and 47 cases involving an amount of ₹1.87 crore were disposed of by three benches of the State Consumer Dispute Redressal Commission.
184 cases settled by e-Lok Adalat
As many as 184 cases were also disposed of at the e-national Lok Adalat organised by the Punjab and Haryana high court.
An official spokesman said a total of 596 cases were taken up by the six benches, adding that High Court Legal Services Committee chairman justice Tejinder Singh Dhindsa was constantly adapting to the new norms and coming up with creative solutions such as e-Lok Adalat, which may even continue in the post-pandemic period.