Now Manpreet stays away from BJP's key meet on his home turf
Published on Jan 25, 2023 01:05 AM IST
Manpreet's absence from meeting called by BJP's Punjab in-charge Gajendra Singh Shekhawat raises brows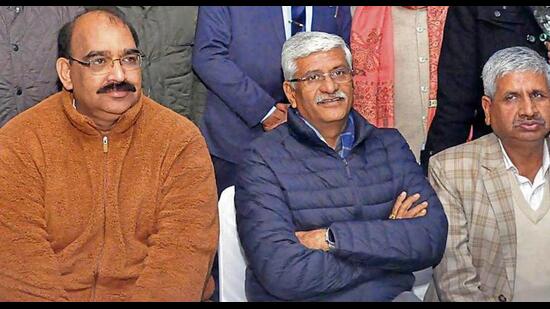 BATHINDA: Nearly a week after switching sides to the Bharatiya Janata Party (BJP), Manpreet Badal on Tuesday stayed away from party's important meeting chaired by Punjab in-charge Gajendra Singh Shekhawat in Bathinda, raising many brows.
Manpreet was also conspicuous by his absence at the BJP state executive meeting in Amritsar on Sunday.
Shekhawat had called a meeting to chalk out a strategy for the Bathinda Lok Sabha constituency --- Manpreet's political turf. The parliamentary polls are scheduled next year.
The five-time legislator was inducted into the saffron party by Union minister Piyush Goel and BJP general secretary Tarun Chugh at the party's national headquarters in New Delhi on January 18. National BJP leadership had projected Manpreet's joining as an important political achievement ahead of party's preparations for the 2024 Lok Sabha elections.
Soon after joining the BJP, Manpreet was fulsome in praising Prime Minister Narendra Modi and Union home minister Amit Shah.
But the ex-Congressman's joining did not go down well with the BJP state leadership. It was more apparent as none of the party's senior state functionaries in Punjab posted any congratulatory message to welcome member of the politically influential Badal family to the party fold.
As a part of his scheduled political outreach programme, Shekhawat and other BJP leaders visited Dhobiana Basti, a city slum, and had a lunch at the residence of a labourer.
Manpreet and his political aide Jaijeet Singh Johal were unavailable for comments.
BJP state general secretary Subhash Sharma said Manpreet was probably out of town or may have some prior engagement.
"I am not sure but I presume an invite may have been extended to Manpreet for the Bathinda event. There are no differences on Manpreet's entry and the state unit will soon felicitate him at a function," said Sharma, who coordinated Shekhawat's two-day visit.
On his part, Shekhawat underplayed Manpreet's absence: "He is a new member in the family and a new entrant takes some time to settle. There is no issue in it," the minister told mediapersons.
Soon after joining the BJP, Manpreet started giving feelers of enjoying the support of the majority of Congress councillors in the Bathinda municipal corporation.
On January 20, he met at least 18 councillors at his farmhouse in Muktsar's Badal village following which his aide Johal tweeted that 'mayor, deputy mayor and a number of councillors support Manpreet Badal'.
His camp projected that with the support of rebel Congress councillors, the BJP would take political control of south Malwa's largest urban local body.
But the very next day, the state Congress president Amrinder Singh Raja Warring held a secret meeting with the Bathinda councillor.
Later, deputy mayor Master Harmander Singh and a few others, who met Manpreet at Badal, said they would remain loyal to the Congress and had no plan to join the BJP.
Former Shiromani Akali Dal (SAD) MLA Sarup Chand Singla, who is now the BJP Bathinda district president, is mincing no word in criticising Manpreet and his aides. Singla confirmed on Tuesday there was no move to induct any Congress councillor.