Panchkula MC turns forest land into garbage dump
Notices have been issued by the wildlife and forest department, residents have moved high court, but the MC is unfazed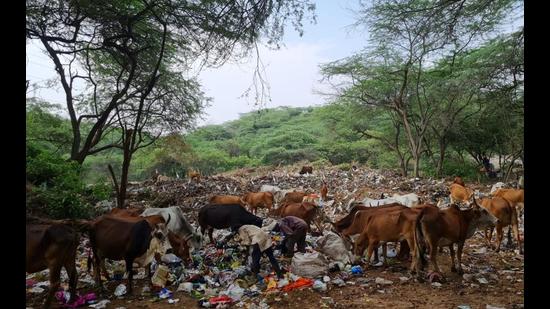 Updated on Aug 19, 2021 12:56 AM IST
Violating all norms, over 12 acres of forest land has been converted into a dumping ground by the Panchkula municipal corporation (MC), posing a severe threat to wildlife and people living in the vicinity.
A strong stench greets you as you cross National Highway 73, just next to the site of the city's upcoming dumping ground. As you walk on the kuchha road, heaps of garbage and swarms of flies indicate the beginning of the land filled with the city's waste. Cows from nearby villages, even peacocks and other wildlife animals can be seen feeding on the garbage.
Notices have been issued by the wildlife and forest department, residents have moved high court, but the MC is unfazed, set upon converting the forest land into a dumping ground.
"Daily, a large number of MC vehicles come to the site and dump waste, which is not segregated," says a ragpicker, and points to syringes in the dump: "There is medical waste as well."
Close by, a seasonal drain can be seen filled with waste as well. "This merges with the big nullah and then the river," he says.
Sanctioned for waste plant
Panchkula city has one other dumping ground, over 12 acres of open space, in Sector 23. This site, too, doesn't have an "environment clearance" and is in close proximity to the Khol-Hi-Raitan Wildlife Sanctuary, forest area, residential areas and a religious site.
Only after several protests, the MC had sought permission to set up a solid waste management plant in the forest area of Jurriwala village, which was granted in 2011 by the ministry of environment, forests and climate change, Northern Zone (Chandigarh).
"The sanction was for a solid waste management plant, but the authorities are using the land as a dumping ground with no appropriate measures to manage waste," says a senior officer of the forest department.
The principal chief conservator of forests-cum-chief wildlife warden, Vir Bhan Singh Tanwar, says: "The MC had demanded diversion of forest land for non-forestry purposes. In reply, we had sought equivalent vacant land (13.5 acres) for forest as per the Forest Conservation Act, 1980."
'MC not paying heed to notices'
"The MC has yet to deliver us the land, but has started dumping waste already. We have issued several notices, but they are not listening," says Tanwar.
"We have been protesting for more than a decade against using this site, which is just 300 metres away from the residential area of Sector 25," says BR Gupta, president of Sector-25 RWA, adding that the Sector-23 dump had already made groundwater totally unfit for human consumption.
MC commissioner Dharamvir Singh said: "For now, we are dumping waste there as the tender for solid waste management plant is yet to be floated. It will not take time."
About medical waste being thrown and animals feeding on plastic there, he said: "People should behave responsibly. They should not throw waste packed in polythene."
Close Story