Sutlej Yamuna Link Canal row: Punjab, Haryana CMs to meet on January 4
Jan 02, 2023 12:57 PM IST
Centre convenes meeting before Supreme Court takes up SYL Canal matter for hearing on January 19 as Punjab and Haryana stick to their stands
Union Jal Shakti minister Gajendra Singh Shekhawat has convened a meeting of Punjab chief minister Bhagwant Mann and his Haryana counterpart Manohar Lal Khattar to resolve the contentious Sutlej Yamuna Link (SYL) Canal issue in New Delhi on Wednesday before the Supreme Court takes up the matter for hearing on January 19.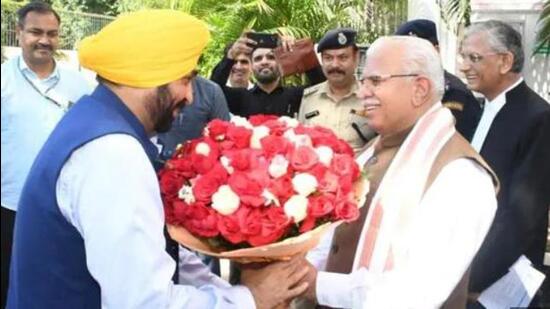 Also read: Canada bans foreigners from buying residential properties. There are exceptions
On September 6 last year, the apex court had asked the two states to resolve the river water sharing dispute that has been hanging fire for 26 years, saying: "Water is a natural wealth that must be shared. Resolve the differences and arrive at a negotiated water sharing agreement under the mediation of the Centre within four months."
Confirming the January 4 meeting, a chief engineer rank officer in the Punjab irrigation department said on Monday, "We are preparing the case for the upcoming discussion by the two chief ministers."
THIRD MEETING BETWEEN CMs
Haryana has been claiming its right over the Sutlej waters, but Punjab has been citing the riparian principle according to which the state in which the water courses flow only has the right over it.
This is the third meeting between Mann and Khattar on this issue. The two met in August 2020 and then in October 2022 but failed to reach an agreement.
After their last meeting, the Mann-led Aam Aadmi Party government in Punjab outrightly rejected the Khattar-led BJP government's demand to construct the canal, saying there was no question of initiating work as the state did not have any water to share with other states. Instead, Mann sought reassessment of water in the rivers of the state as "Haryana with a lesser geographic area as compared to Punjab is getting more water".
DEPLETING RESOURCES: PUNJAB
"At present, Haryana gets 14.1 million acre feet (MAF) of water from the Sutlej, Yamuna and other rivulets, whereas Punjab gets only 12.63 MAF, leading to pressure on groundwater that is depleting fast," Mann said.
In 2016, during the tenure of the Parkash Singh Badal-led Shiromani Akali Dal-BJP government, more than 5,300 acres acquired for the SYL project was denotified and returned to the original owners.