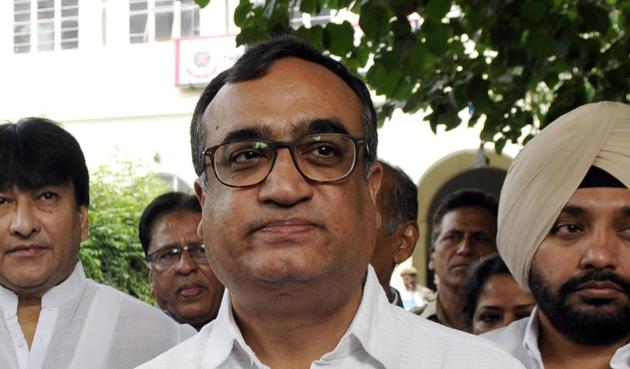 Cong targets PM Modi over Jung's 'unceremonious exit
Delhi Congress chief Ajay Maken called it an "unceremonious exit" and demanded the Centre to explain the reasons for it.
HIndustan Times | By HT Correspondent
, New Delhi
PUBLISHED ON DEC 23, 2016 01:55 AM IST
The Congress trained guns on Prime Minister Narendra Modi while the BJP offered no punches in their reactions to the sudden exit of Delhi lieutenant governor Najeeb Jung.
Ironically, Jung, who was described as an agent of the BJP-led Centre by bitter rivals AAP, was appointed by the UPA government in July 2013 when Sheila Dikshit was the chief minister of Delhi.
Jung announced his resignation on Thursday morning.
Delhi Congress chief Ajay Maken called it an "unceremonious exit" and demanded the Centre to explain the reasons for it.
"We want to know if there was any deal between Narendra Modi and Arvind Kejriwal in the sudden resignation of Jung as he was under pressure. The BJP and the Centre may also want to bring in an RSS-connected or RSS-supported person as the L-G of Delhi," Maken said at a press conference.
Maken said it was the first time that Delhi's L-G had to leave in this manner.
Maken's BJP counterpart, Manoj Tiwari did not see any politics in it. He said he will not give it a "political colour".
"He has served the people of Delhi very well and he has been a firm believer in the Constitution," Tiwari said.
Maken, however, drew parallels with the former lieutenant governors to prove his point.
"Look at the previous three L-Gs. Vijai Kapoor served as the L-G for six years, BL Joshi for three years and Tejender Khanna for six years. Najeeb Jung had completed only three years before this unceremonious exit," Maken said.
The BJP said it was Jung's personal decision even as speculation was rife over his successor. The Centre also expressed surprise over the decision. The party described Jung as a good administrator and wished him well.
"He (Jung) was a good administrator and was going by the rulebook, which was needed in a place like Delhi where the chief minister was not following the rules. I do not know what was in his mind but if he has decided to continue his career in academics, I am sure he will shine in it," Singh told HT.
Singh also did not give currency to speculation that Jung left office because of pressure due to the ongoing slugfest between the L-G office and the Delhi government. "He did not seem like a man who would succumb under pressure. But no one knows. Every person has a breaking point."
BJP sources said soon after the news of L-G's resignation came out on Thursday, Tiwari met Union home minister. Sources, however, refused to give out further details saying it was a "pre-decided" meeting.
"He has exercised utmost restraint despite the grave provocation from certain people in power. Despite everything, his heart and tongue was never bitter against his critics," said leader of the opposition in Delhi Assembly, Vijender Gupta.
Close