Delhi sees 8th cold wave day this Jan, respite likely today
Jan 19, 2023 05:36 AM IST
Officials said that the minimum tempreature will rise to 5 degrees by Friday and further up to 8 degrees by Saturday.
New Delhi: Delhi recorded a minimum temperature of 2.6 degrees Celsius on Wednesday, five degrees below normal for this time of the year, making it the eighth 'cold wave' day this month so far, India Meteorological Department (IMD) said.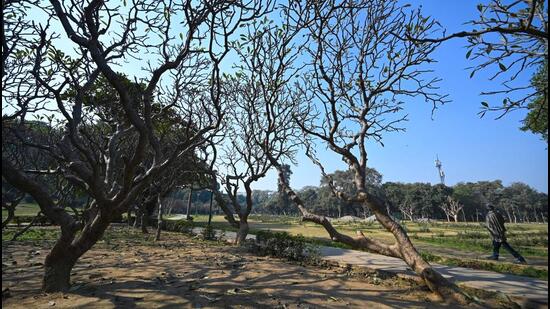 This month has already had the second highest number of cold wave days since 1992, according to IMD data. January 2008 recorded the maximum 12 cold wave days since 1992. In 1997, 1998 and 2021, Delhi had recorded seven such days in January, IMD data shows.
IMD classifies it as a cold wave when the minimum temperature is 4.5 degrees or more below the normal mark, or when it drops to 4 degrees or lower. The Safdarjung observatory (2.6), Lodhi Road (2.2), Ridge (2.3), Jafarpur (2.9) and Ayanagar (3.2) weather stations met this criteria on Wednesday.
Wednesday was also the third consecutive cold wave day this week. The city also recorded five consecutive coldwave days between January 5 and January 9 -- the highest since 1992. Same number of consecutive cold wave days were also recorded in 2013, according to IMD data.
"The first spell felt (January 5 and 9) colder as we had a combination of northwesterly winds and fog, which blocked sunlight leading to low day-time temperatures. In the current spell, we have seen clear skies and the impact has been mainly due to strong cold northwesterly winds, which have been faster and stronger this time than during the last spell," said an IMD official. He added that both the coldwave spells this month followed fresh snow in higher reaches.
On Monday, Delhi had recorded the season's lowest temperature, with the minimum dropping to 1.4 degrees Celsius at Safdarjung, the lowest since it was 1.1 degrees on January 1, 2021.
Cold wave conditions, however, are likely to abate from Thursday due to two western disturbances expected to bring rain to the city, IMD said in its forecast.
Officials said that the minimum tempreature will rise to 5 degrees by Friday and further up to 8 degrees by Saturday. "The first western disturbance will influence Delhi on January 19 and 20, with chances of drizzle on Thursday night. The second western disturbance will be intense and impact the western Himalayan region from the night of January 20 to January 26. Its effect will be felt in the northwestern plains between January 23 and 25. Light rain is expected both on January 23 and 24, with wind speeds reaching 30-40 km/hr on January 24," the IMD forecast said.
Despite a low minimum temperature, the city witnessed a sunny day again with the maximum temperature recorded at 19.6 degrees Celsius. It was around the normal mark for this time of the year. The maximum temperature may rise to 21 degrees by Saturday, IMD said.
Meanwhile, Delhi's Air Quality Index (AQI) deteriorated to the 'very poor' category on Wednesday, with a reading of 306, according to the Central Pollution Control Board's 4pm bulletin. On Tuesday, Delhi had recorded an AQI of 288 (poor).
Forecasts by the Early Warning System (EWS), used by CAQM to take pre-emptive action, shows Delhi's AQI is likely to return to 'poor' by January 20, owing to rain and an increase in wind speed. An AQI between 0-50 is considered good, 51 and 100 satisfactory, 101 and 200 moderate, 201 and 300 poor, 301 and 400 very poor, and over 400 is severe.