By-election results 2022 Delhi Rajinder Nagar: Saurabh Bhardwaj claimed Durgesh Pathak won the Rajinder Nagar assembly by-election by 11,555 votes over his immediate rival, BJP's Rajesh Bhatia.

While the three Lok Sabha seats that are up for grabs are in Uttar Pradesh (Rampur and Azamgarh) and Punjab (Sangrur), the seven assembly seats are spread across Tripura, Jharkhand, Andhra Pradesh and Delhi.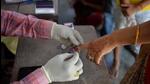 On Wednesday, the MCD pressed four bulldozers, five trucks and around 30 labourers into action and removed 50 structures located on the periphery of the Qabristan, the capital's biggest graveyard for Muslims.

Covid-19 Delhi: The national capital, however, did not see any fresh death with the toll currently standing at 26,242. Delhi's active case count not stood at 5,755, while the overall infection tally rose to 19,27,394.

Bypolls: The votes for the bypolls will be counted on Sunday.