Republic Day 2023: Delhi Traffic Police issues advisory. Check Full details
Published on Jan 24, 2023 11:18 PM IST
The Republic Day parade will begin at 10.30 am from Vijay Chowk and proceed to the Red Fort, according to the advisory.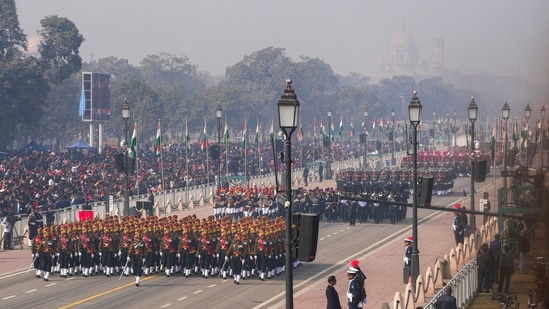 The Delhi Traffic Police on Tuesday issued a traffic advisory for the Republic Day celebrations. The Republic Day parade will begin at 10.30 am from Vijay Chowk and proceed to the Red Fort, according to the advisory.
"There will be no traffic on Kartavyapath from Vijay Chowk to India Gate beginning at 6 pm on Wednesday until the parade concludes on Thursday," the advisory stated.
Also Read | Republic Day 2023: When, where and how India celebrated its 1st R-Day?
It also said that there will be no cross traffic on Kartavyapath beginning at 10 pm. on Wednesday at Rafi Marg, Janpath, and Man Singh Road until the Parade concludes. From 9.15 am on Thursday until the parade crosses Tilak Marg, the "C"-Hexagon-India Gate will be closed to traffic. Traffic on Tilak Marg, Bahadur Shah Zafar Marg, and Subhash Marg will be prohibited in both directions beginning at 10.30 am on Thursday.
The traffic advisory recommended alternate routes for motorists. Commuters can take the route from Madarsa, Lodhi Road T-point to Mandir Marg via Aurobindo Marg, AIIMS Chowk, Ring Road-Dhaula Kuan Vande Matram Marg, and Shankar Road, according to the advisory.
Also Read | Video: Egypt prez in Delhi, will be Republic Day 2023 chief guest| 5 points
Commuters from south Delhi can access the New Delhi Railway Station via Dhaula Kuan, Vande Matram Marg, Panchkuian Road, Connaught Place Outer Circle, Chelmsford Road for the Paharganj side or Minto Road and Bhavbhuti Marg for the Ajmeri Gate side.
Road motorists are advised to plan their journey ahead of time and avoid the parade route from 9.30 am to 1 pm, according to the advisory.
Regarding the use of metro services, the advisory stated that invitees and ticket holders are encouraged to use metro services as much as possible to get to Kartavyapath. During the Republic Day parade on Thursday, commuters will be able to use Metro services at all stations, according to the statement.
The Delhi police have been raising awareness on social media and asking people to report any suspicious person, activity, or article as a part of anti-terror measures ahead of Republic Day.
Police estimate that 60,000 to 65,000 people will attend Republic Day celebrations. According to police, approximately 6,000 security personnel will be deployed, and 24 help desks will be set up in the New Delhi district for those attending Republic Day celebrations.
Topics