Shallow fog, cloudy skies greet Delhi on Republic Day; AQI back to poor
Jan 27, 2023 01:45 AM IST
Fog lowered visibility to around 800 metres due to which spectators could not view the fly-past, which included aerial displays by aircraft such as Rafale, Mig-29 and Su-30 MKI fighters
The weather played truant during the Republic Day parade in the Capital on Thursday, as overcast skies and a layer of fog lowered visibility to around 800 metres much to the disappointment of spectators who could not view the fly-past.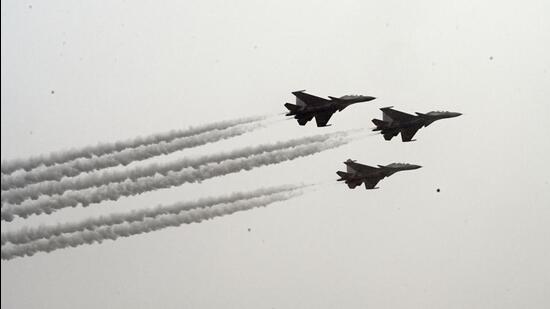 The fly-past, a major attraction of the parade, included aerial displays by several aircraft such as Rafale, Mig-29 and Su-30 MKI fighters as well as C-130 Super Hercules and C-17 Globemaster transport planes.
Delhi also witnessed shallow to moderate fog through the day, with visibility oscillating between 400 and 1,000 metres at Palam, while it was between 500 and 1,200 metres at Safdarjung. The IMD classifies fog as 'shallow' when visibility dips below 1,000 metres, as 'moderate' when visibility is between 200 and 500 metres and as 'dense' when it is below 200 metres.
"Visibility largely hovered around 800 to 1,000 metres through the day, and dipped to 400 metres at Palam around 9am for a 30-minute period. At Safdarjung, the lowest visibility was 500 metres, around 7.30am. Other than that, we recorded this perennial layer of low clouds and fog, which helped keep the maximum low," Kuldeep Srivastava, scientist at India Meteorological Department (IMD).
Despite the cloudy skies and fog, Delhi's minimum temperature was unusually high, largely owing to clouds preventing the heat from escaping quickly in the early hours, Met officials said.
While Safdarjung, representational of Delhi's weather, recorded a minimum temperature at 12.8 degrees Celsius (°C)--four notches above normal--the maximum temperature was recorded at 17.3°C, four notches below normal. Delhi also felt the impact of cold northwesterly winds through the day, which are likely to lead to a dip in minimum temperature by 3-4 degrees over the next 48 hours, the India Meteorological Department (IMD) forecast.
According to IMD data, this is the second-highest minimum temperature for Delhi on Republic Day in the last decade, after 2017, when it was 16°C. In comparison, the last Republic Day saw a maximum temperature of 16.4°C, and minimum temperature of 5.8°C.
"When there are clouds and fog, the minimum temperature is generally not that low, as the moisture in the air prevents heat from escaping quickly. Despite cold northwesterly winds blowing in the early hours, the minimum temperature remained high, but as the day progressed, this low cloud cover stayed in place, keeping the maximum temperature under check and not allowing it to rise too much," said Srivastava.
The cloudy skies and low temperature through the day also led to a deterioration in air quality, with Delhi's air quality index (AQI) reading recorded at 298 (poor), according to Central Pollution Control Board's national bulletin on Thursday. In comparison, it was 160 (moderate) on Wednesday, which was also Delhi's cleanest air day in over three months.
Forecasts by the Early Warning System (EWS) for Delhi show the Capital's AQI is likely to remain 'poor' on Friday as well, before deteriorating further on Saturday.
"Delhi's air quality is likely to remain in the 'poor' category on January 26 and 27. The air quality is likely to reach the lower end of the 'very poor' category on January 28. The next day, it is likely to improve once again and will return to the 'poor' category," said EWS.
IMD forecasts, meanwhile, show Delhi will see a maximum temperature of around 19°C over the next two days, but the minimum will dip to around 8-9°C, owing to cold northwesterly winds blowing over the region. From Sunday onwards, the minimum temperature will rise again, with a fresh western disturbance will influence Delhi on both Sunday and Monday, which will also bring light rain on Sunday, forecasts show.