Sammed Shikharji: Another Jain priest begins hunger strike in Jaipur
Published on Jan 05, 2023 04:08 PM IST
Top police officers rushed to Sanghiji Temple and spoke to community leaders as Samarthsagar announced his fast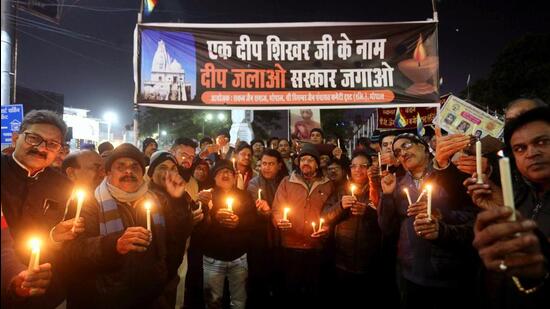 Two days after priest Sugyeyasagar Maharaj on a hunger strike against the move to declare Jharkhand's Jain pilgrimage site Sammed Shikharji a tourist place, another priest began his fast in protest at Jaipur's Sanghiji Temple.
"I will not have anything except a liquid diet till the decision related to Sammed Shikharji is not withdrawn," said Samarthsagar, 74, as he sat on his hunger strike.
Rajasthan Jain Sabha general secretary Manish Baid called hunger strike a right of the priests. "Sammed Shikharji is a place of salvation for them and today that is in danger." He said protests against the move across the country were intensifying.
Top police officers rushed to Sanghiji Temple and spoke to community leaders as Samarthsagar announced his fast. "There is no law to stop them. In their religion, they have the concept of giving up the body for salvation...they stop eating. They are not protesting or sitting on a dharna," said a police officer.
On Wednesday, Rajasthan chief minister Ashok Gehlot spoke to his Jharkhand counterpart, Hemant Soren, who assured him of a solution soon.
Congress leader Sachin Pilot on Tuesday wrote to Union tourism minister G Kishan Reddy over the matter. "The community has been deeply hurt by the declaration of Sammed Shikharji as a tourist destination by the Ministry of Tourism. Jains are dissatisfied with the approach of the Central Government on this religious, emotional, and sensitive issue..."
He added Jains were agitating against this decision."...I request that keeping in view the public sentiment, the Central Government should reconsider the decision to declare Shri Sammed Shikharji a tourist destination."