Top priority to open supply today: Haryana cop on Delhi water crisis
Updated on Feb 21, 2016 01:22 PM IST
Delhi government moved Supreme Court late on Saturday evening, seeking an urgent hearing on the water crisis on Sunday.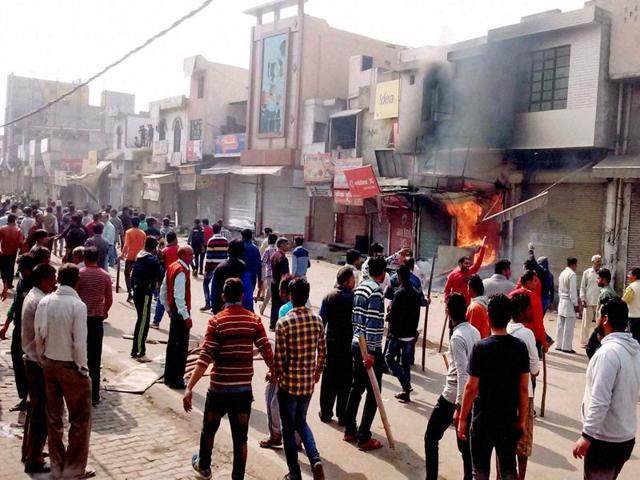 The Delhi government ordered all schools shut on Monday and rationing of dwindling water supplies to stave off a crippling crisis after rampaging Jat protesters demanding quota in education and jobs damaged a key supply link to the Capital.
Chief minister Arvind Kejriwal said on Sunday water rationing would be implemented across the city and asked people to save water on a day the Supreme Court is expected to take up the city government's urgent plea to resolve the issue.
Even as Delhi administration was making arrangements to tackle the impending crisis, a top police official of Haryana said their priority would be to open water supply to the national capital.
"Our top priority today is to open water supply to Delhi," said YP Singhal, Haryana's director general of police during a media interaction on Sunday.
Earlier, Delhi water minister Kapil Mishra said that Delhi does not have anymore water.
"We are left with no water now, this morning's supply was the last one," Delhi water minister Kapil Mishra told ANI.
Senior ministers said seven water treatment plants were forced shut after angry mobs broke the control apparatus of the Munak canal in Haryana, affecting several pockets in west, northwest and south Delhi.
The top court is likely to hear the government's "urgent" plea to resolve the issue on Sunday morning. Morning supply was available at low pressure as only 60% of the water was available.
"Delhi facing unprecedented water crisis. Soon, water will have to be rationed. Shouldn't scarcity be equally shared between public and VIPs?" Delhi chief minister Arvind Kejriwal tweeted on Sunday .
The chief minister met Sisodia, water minister Kapil Mishra, Delhi Jal Board chief and the secretary of the New Delhi Municipal Corporation at an emergency meeting on Sunday morning.
Mishra said 760 tankers will serve parched areas from Sunday. Delhi government also asked traffic police to provide free access to water tankers and treat water supply as emergency service.
Appealing to people to use water judiciously, deputy chief minister Manish Sisodia said stocks were drying up.
"There is a crisis situation in Delhi. Whatever store of water we had we will use that for the people. As of now, we have rationed yesterday's water. After tomorrow we will not be able to supply water," deputy chief minister Manish Sisodia told the media on Saturday.
Against the total production of 820 million gallons per day (MGD) of potable water, only 240 MGD was being produced because of the disruption of supply from Haryana, Delhi Jal Board officials said.
The protesters shut the gates late on Friday evening. They were opened after the Delhi government took up the matter with Haryana.
On Saturday, Mishra held an emergency meeting and cancelled leaves and weekly offs of DJB officers.
Mishra said it could take at least 24 hours to mend the controls even after the gates of the Munak canal were cleared of protesters.
Among the areas affected were Dwarka, Janakpuri, Munirka, Palam, Rajouri Garden, Punjabi Bagh, Vasant Kunj, Saket, Green Park and Lodhi Colony, where residents complained of little or no water.
The spiraling Jat protests have hamstrung the Haryana administration as angry mobs dug up roads and used trucks and buses to seal off the districts of Bhiwani, Jhajjar and the epicentre of the protests, Rohtak.
Protesters clashed with security forces in almost every part of the state, burning offices and railway stations, leaving five people dead on Saturday.
.
Personalise your news feed. Follow trending topics