UNESCO team to visit Kolkata before Durga Puja on CM Mamata's invitation
Aug 10, 2022 11:35 AM IST
In December 2021, the festival got a heritage tag with the UN agency inscribing "Durga Puja in Kolkata" on the "Representative List of the Intangible Cultural Heritage of Humanity"
The United Nations Educational, Scientific and Cultural Organization (UNESCO) accepted an invitation from the Mamata Banerjee-government to participate in pre-Durga Puja celebration scheduled on September 1.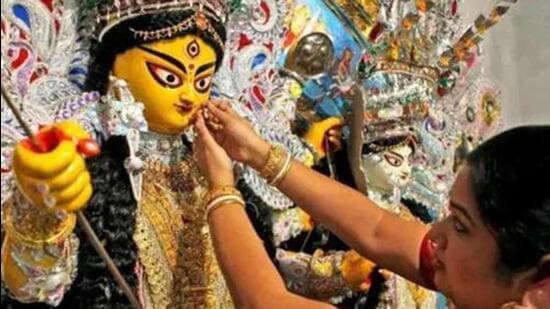 In December 2021, the biggest festival in West Bengal got a heritage tag with the UN agency inscribing "Durga Puja in Kolkata" on the "Representative List of the Intangible Cultural Heritage of Humanity".
Stay tuned with breaking news on HT Channel on Facebook.
Join Now
On Tuesday, Eric Falt, director and UNESCO representative to India, Bhutan, the Maldives and Sri Lanka sent a letter to the state's chief secretary confirming the agency's participation.
Also Read: For Silchar's sex workers, Durga Puja is celebration of womanhood
"In recognition of the unique and important relationship between West Bengal and our organization, the Director General is pleased to direct the participation of myself and Tim Curtis, secretary of the 2003 Convention for the Safeguarding of the Intangible Cultural Heritage. Thus, I take this opportunity to confirm our joint participation in the celebration," Falt wrote in the letter.
Around 37,000 community pujas are organised across the state every year.
Of these, around 2,500 are held in Kolkata. Several organisations had urged UNESCO to recognise the festival.
Forum for Durgotsav, a platform of nearly 500 major Durga Pujas in the city and its adjoining areas will organise a mega rally on September 1 to thank UNESCO for giving Durga Puja a heritage tag.
Chief minister Mamata Banerjee is expected to be in attendance.
This year, Durga Puja will be held in the first week of October.
In 2020 and 2021, the Calcutta high court had imposed multiple restrictions on the movement of pandal hoppers and puja committees because of the Covid-19 pandemic.
According to a study commissioned by the state government in 2018, the economic value of the creative industries that crop up around the Durga Puja is worth ₹32,377 crore.