Demand for worship at Gyanvapi: Varanasi seer continues fast for third day in a row
Published on Jun 06, 2022 11:28 PM IST
"Dandi Swamis" living in Mumukshu Bhawan located in Assi and those associated with Ganga Seva Abhiyan observed a daylong silence to show their solidarity with Swami Avimukteshwaranand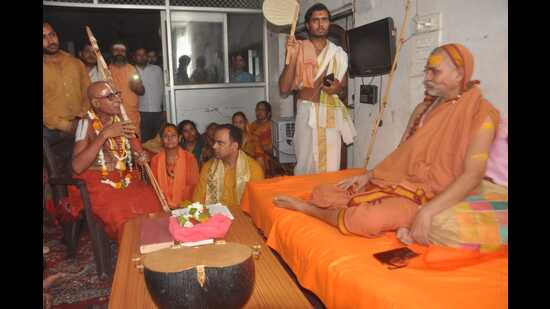 Swami Avimukteshwaranand, who has been on an indefinite fast at his Vidya Matt here since Saturday (June 4) after he was denied permission to worship the "Shivlinga" said to have been found in the Gyanvapi mosque complex during a court-ordered survey on May 16, continued his fast for the third consecutive day on Monday.
"Swamiji gave up food and water due to which his weight is falling and his sugar level has also come down," said Vidya Matt spokesperson Sanjai Pandey. "His disciples are worried about his health because he is a diabetic. Doctors are constantly checking his health parameters," he added.
Meanwhile, the "Dandi Swamis" living in Mumukshu Bhawan located in Assi and those associated with Ganga Seva Abhiyan observed a daylong silence to show their solidarity with Swami Avimukteshwaranand.
All India Dandi Sanyasi Mahasabha said the administration should either send a representative of Swami Avimukteshwaranand or a priest to offer worship to the said "Shivlinga".
Personalise your news feed. Follow trending topics