Last Monday of Shrawan: Faithful throng KV Temple, Muslims welcome kanwariyas
Published on Aug 09, 2022 12:28 AM IST
The unexpected sight – in tune with the city's famed Ganga-Jamuni culture - was members of the Muslim community coming forward to welcome kanwariyas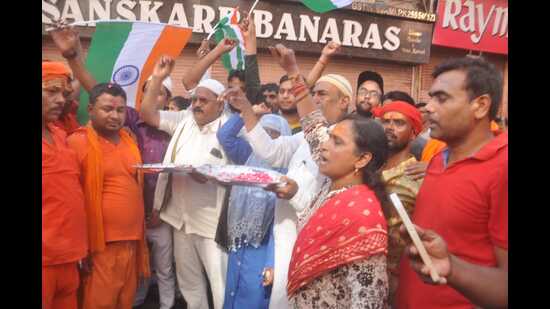 Varanasi's Kashi Vishwanath (KV) Temple witnessed the expected serpentine queues of the faithful and inflow of kanwariyas, on the last Monday of Shrawan. The temple witnessed a footfall of more than 4.5lakh through the day.
The unexpected sight – in tune with the city's famed Ganga-Jamuni culture - was members of the Muslim community coming forward to welcome kanwariyas entering Varanasi to visit the KV Temple, the most famous temple dedicated to Lord Shiva.
Godowlia crossing, at a distance of 550 meters from the KV Temple was where the unexpected sight was first witnessed. At the crossing, where there was long queue of kanwariyas waiting to gain entry into the temple, people from the Muslim community showered rose petals on them, welcoming them in their own way.
"Walking several hundred kilometres barefoot, carrying Gangajal, is not an easy task. Kanwariyas truly deserve the welcome, hence, we decided to greet them in a special way," said Asif Ahmed, a trader.
Along with other Muslim friends, Ahmed, who took part in the activity, said, "At times when the communal gap between communities is increasing, it was just an attempt to send a strong message that 'we are one'". He said there may be cultural differences among people of different faiths but what must keep us together is humanity and respect for all religions.
Some Muslims even came forward to hand flowers while a few chose to give the kanwariyas the Indian flag, as a part of Azadi Ka Amrit Mahotsav.
Sunil Verma, chief executive officer, KV Temple said that more than 4.5 lakh people visited the temple on the last Monday of Shrawan. He said the day went smoothly and the crowd was managed well.
Personalise your news feed. Follow trending topics