Prayagraj gets U.P.'s first backwash water filter plant
Jan 13, 2023 11:36 PM IST
The system is capable of converting even unused sludge left after filtration at the plant into drinking water
Sangam city has become the first city in Uttar Pradesh to use a backwash system to save drinking water, claim Jalkal department officials. As part of its potable water conservation efforts, the department has installed a backwash water filter system at its Khusro Bagh water treatment plant.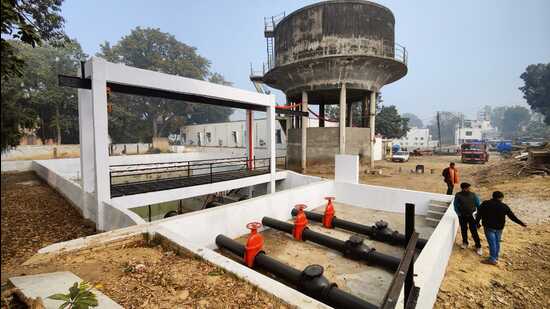 This system is capable of converting even unused sludge left after filtration at the plant into drinking water which can be supplied to Sangam city residents, say officials in the know of things.
The backwash water filter plant set up at a cost of ₹4 crore will save 12 million litres per day (MLD) drinking water per day, they add. Piped drinking water is supplied by the Jalkal department in Prayagraj—a city surrounded by rivers Ganga and Yamuna from three sides.
General manager, Jalkal department, Kumar Gaurav said drinking water supply to 80% of the city's population comes from the department's three water treatment filter plants located in Khushro Bagh. They have a total capacity of 135 MLD.
"But even after cleaning 135 MLD water per day in these water filter plants, 12 MLD water remains left in form of dirty water in the bed of the filter plant as sludge which till now was considered unusable and was discharged into the drain. But now to re-filter this waste water, a backwash plant has been set up in which the sludge containing water can be re-purified and provided to the city as drinking water supply," he said.
"This will almost eliminate the gap between the demand and supply of drinking water in urban areas. After the formation of new wards in the urban areas in Prayagraj, at present there is a demand of 471 MLD drinking water but only 402 MLD is being supplied by the Jalkal department. This difference will be further reduced by the installation of backwash water filter plant," Gaurav said.