Relationships give bypolls in Uttar Pradesh a distinct flavour
Updated on Nov 27, 2022 01:16 AM IST
The "chacha-bhatija" (Akhilesh-Shivpal) patch-up for the Mainpuri bypoll has left BJP candidate Raghuraj Shakya, who earlier described himself as "Shivpalji's chela", a bit baffled.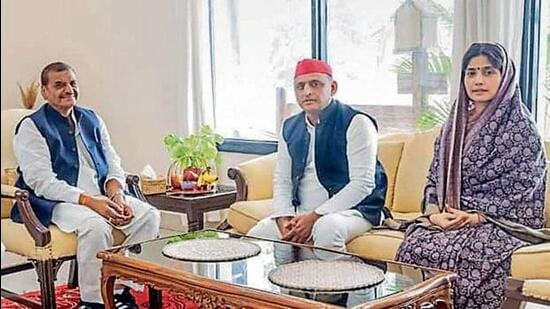 The December 5 bypolls in Uttar Pradesh are all about relationships with stories of unity and betrayal as the campaign is replete with references to 'chela' (disciple), 'chacha' (uncle), 'bahu' (daughter-in-law), 'patni' (wife), 'bhaiya' (brother) and 'bhatija' (nephew).
For instance in Mainpuri Lok Sabha constituency, Samajwadi Party candidate Dimple Yadav, wife of party chief Akhilesh Yadav, is seeking votes in the name of former MP, her "sasur (father-in-law) and netaji Mulayam Singh Yadav, whose demise has caused the bypoll.
The "chacha-bhatija" (Akhilesh-Shivpal) patch-up for the Mainpuri bypoll has left BJP candidate Raghuraj Shakya, who earlier described himself as "Shivpalji's chela", a bit baffled.
"People are watching. They unite when it is about their family and separate again," said Shakya, a former Shivpal loyalist who was earlier claiming that "chacha's" blessings were with him.
The assembly bypoll for the Rampur Sadar seat, which the BJP has never won, is about the SP's political heavyweight 'chaccha Azam Khan' ploughing a lonely furrow.
Khan, who was disqualified as an MLA after his conviction in a hate speech case and whose name was struck off the voters' list, is watching a spirited BJP reaching out to his aides and fielding a man responsible for filing series of cases against him. Azam Khan's aide and SP candidate Asim Raza, who is seeking to win his first election, is relying on a "silent campaign".
Azam has already broken down once in Rampur while speaking of how he has been undone by a false and targeted campaign by the BJP.
The BJP tasted victory in the June Lok Sabha bypoll in Rampur by fielding Khan's former aide, Ghanshyam Lodhi who went on to win. Lodhi is now actively participating in denting Khan's hold on an assembly seat from either he or his family members have won since 1980, barring once in 1996.
'Chacha Azam Khan' is a household name in Rampur Sadar, a Muslim majority constituency.
It is in this assembly constituency that the BJP is aggressively projecting itself as a party under whose government the poorest of the poor 'pasmanda (backwards)' have won.
"It's true that BJP government's policies have helped the poorest of the poor," said Fasahat Ali Khan 'Shanu', a former Azam aide who recently joined the BJP, six years after writing a letter with his blood to the President, complaining of atrocities on Azam.
In Khatauli assembly seat, former BJP lawmaker Vikram Saini whose disqualification following his conviction in a 2013 Muzaffarnagar riots case set up the bypoll, has been campaigning for his wife Rajkumari Saini, who has been named as a contestant by the BJP. She is up against Samajwadi Party-RLD nominee 'Madan Bhaiya', who enjoys the reputation of being a strongman. But the husband-wife campaigner-contestant couple are putting up a brave front.
"Aisa hai, main apni patni ko janta hoon, woh Jhansi ki Rani hai, kisi se nahi darti. Jab woh mujhse nahin darti toh kissey daregi? (My wife is a Jhansi ki Rani. She fears none, irrespective of who he is. When she doesn't fear me, who else will she fear?)," said the former BJP lawmaker.
"The bypolls are witnessing a united Samajwadi Party first family and if this unity holds on, it is going to impact the 2024 LS polls. Similarly, the bypolls have seen the SP-RLD staying together. In that sense, the fate of their nominee in these bypolls would be important from a larger point too. In Rampur, a Muslim dominated turf, if BJP does well, then it would be marketed by it as proof of its growing acceptance but if not, the SP would surely take it as a positive indication," said Irshad Ilmi, a political observer.