Colleges in Maharashtra to reopen from October 20
Amid the sustained decline in coronavirus disease (Covid-19) cases in the state, the Maharashtra government on Wednesday announced that colleges in the state will reopen from October 20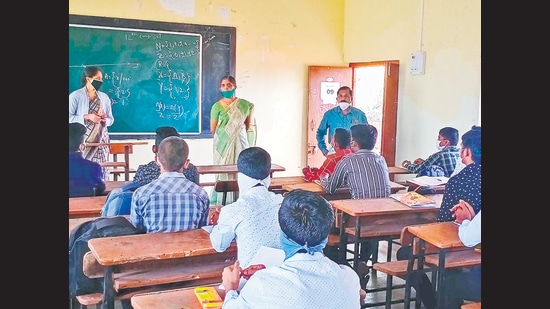 Updated on Oct 13, 2021 09:51 PM IST
Amid the sustained decline in coronavirus disease (Covid-19) cases in the state, the Maharashtra government on Wednesday announced that colleges in the state will reopen from October 20. Physical classes will, however, reopen only for students who have received both doses of the vaccine against Covid-19, the government order stated.
Earlier this month, the state government reopened schools in urban and rural areas. In rural areas, classes 5 to 12 started from October 4, while in urban areas, classes 8 to 12 were reopened.
"For the past week, I was saying that the time has come for colleges to reopen. Today, we discussed the issue with the chief minister, deputy chief minister and the senior officials and decided to reopen colleges from October 20... The colleges that come under the Higher and Technical Education [department], including UGC, PG, engineering colleges, etc. will reopen from October 20," said Uday Samant, Maharashtra's higher and technical education minister.
The government resolution (GR) issued by the government on Wednesday stated that colleges and universities must set up vaccination camps for students. "The students must be fully vaccinated and those should be asked to attend classes in priority. If the students are not vaccinated then universities and colleges must take the initiative to set up a vaccination camp for students on the campus, after discussion with the local administration. Such instructions have been given to all universities and college managements," Samant said.
The minister said that the department will send a proposal to the chief secretary to allow college students in Mumbai to travel by local trains. Currently, only fully vaccinated citizens are allowed to use Mumbai suburban local train services.
Samant added that the teaching and non-teaching staff in the universities and colleges must be fully vaccinated. While starting physical classes in the universities and colleges, the management must engage with the local district administration on whether to start it with 50% capacity or more, he added. He further appealed to guardians, parents and students, including those who are fully vaccinated, to ensure all precautions while attending college.
Some districts in Maharashtra continue to have more Covid-19 cases than other parts. For such districts, the universities and college management can decide on reopening, depending on the situation in conjunction with the local district administration.
"Nobody knows that if and when the third wave of Covid infections will come. If it happens, universities and colleges must coordinate with the local administration to prepare a dedicated guideline for the district. Some districts currently have a high number of cases... for example Sindhudurg, Satara, Ahmednagar still have a high number of cases. Such districts can discuss with the local administration and take a decision [on reopening colleges]," the minister said.
The universities or colleges are also mandated to set up online classes for those students who cannot attend the lectures. Some students may be staying back in their villages since hostels are still not operational, they have can attend classes online, the minister said. He said, "We are planning to reopen hostels in a graded manner. The department will survey the hostels and they will be reopened gradually."
Meanwhile, principals and school staff are concerned about preparations that need to be in place, while students are excited to be able to attend classes after almost two years of online sessions.
"This has come as a relief as we were wondering if we would have to continue with online sessions this year as well. We were looking forwards for the fun of meeting classmates and attending physical sessions, which helps us understand concepts better," said Anvita Joshi, 19, student of Ruia College
Principals are busy chalking out plans to set up a hybrid model of teaching. Most colleges have exams around the same time, making it difficult to shift to offline sessions immediately. "We have our exams beginning from October 20 so we will have to delay reopening, however, in the meantime we are preparing a hybrid model of teaching. Our priority at reopening would be students that have practical sessions to attend. Classes for final year students of graduation and post graduation will begin first," said Hemlata Bagla, principal, KC College.
Moreover, the concern for most is commuting as many are not due for the second dose yet. Reaching college for staff and students without access to local trains would be difficult. "The government should permit those with identification cards access to local trains even if they have only taken one dose of vaccination. This should include non teaching staff as well. Most travel from various locations within Mumbai," said TA Shiware, chairman of Mumbai Association of non-government colleges.
"I have to travel from Thane till Ville Parle on a regular basis if college reopens. I am keen on attending offline sessions, but my second dose of vaccine is due only next month. Without access to local trains I will not be able to attend," said Viraj Desai, 20, student of Mithibai College.
Close Story