How Indian textiles, from Kashmir to Kanyakumari, travelled the world and back
Feb 04, 2023 12:39 AM IST
There are 13th-century block prints from Gujarat, 17th-century embroidered bedspreads from Bengal, 18th-century kalamkari costumes from the Coromandel Coast (the south-eastern side of India's coastline), and 19th-century striped pashminas from Kashmir
MUMBAI: The history of India has been written with a stylus, a chisel, a paintbrush and a needle. It has been written by scholars, sculptors, and artists, along with weavers, embroiderers and dyers. The backstory of Indian textiles forms the backdrop of this country; and to believe Deepika Shah, curator of a new textile exhibition initiated by Chhatrapati Shivaji Maharaj Vastu Sangrahalaya (CSMVS), sometimes even the world. "There's so much of history that got shaped by Indian cloth. And, as Indians, we're not even aware of how pivotal their contribution was," she says.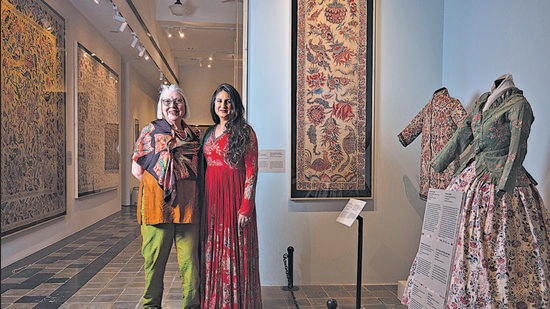 'When Indian Flowers Bloomed in Distant Lands' has a sampling of 58 trade cloths from the Surat-based TAPI Collection. Founded by Shilpa and Praful Shah, of Garden Silk Mills, they have been acquiring centuries-old objects for half a century. "My mother-in-law has always been collecting," says Shah, who married into the family in 1997, and has a background in art history. "When other people thought old was rubbish, she had the eye for it. And, my father-in-law, because they had a textile printing business, started collecting mainly as a design resource for inspiration. Together, they were such a dynamic duo that by 2000, the collection had become a formal assemblage of textiles."
With dates of birth ranging from 1250 to 1850, the heirloom textiles were born on the loom, but reared by artisans of different disciplines, and in distinct regions. "We've tried to showcase diversity in terms of the geographical spread, the chronological spread, even the artistic spread," says Shah. There are 13th-century block prints from Gujarat, 17th-century embroidered bedspreads from Bengal, 18th-century kalamkari costumes from the Coromandel Coast (the south-eastern side of India's coastline), and 19th-century striped pashminas from Kashmir.
The phoren-returned textiles were all created for export, meant for sacred rituals in Indonesia and tea ceremonies in Japan. They were used as tunics for soldiers in Thailand, provincial flags in Sri Lanka, and prayer mats in Iran. Europe loved them as palampores (bed covers or hangings) and clothing, and the US even found use for them while shaving. "You see this thing," Shah says, while pointing at an upside-down motif on a shaving bib. "I wondered, 'Why is it ulta?' It's probably when he wore it, he could see it correctly." In the official portrait of the current sultan of Yogyakarta, Indonesia, the king is even wearing hip patola pants.
"In the East, the textiles were lubricating the wheels of commerce," says Shah. "It's just fascinating how the craftsmen, the textile makers, the dyers were able to create cloths that catered to so many different tastes and preferences. What would sell in Indonesia wouldn't sell in Thailand, and vice versa. I believe that these kinds of textiles were the world's first global consumer commodity. They were signifiers of wealth, indicators of status and rank, transmitters of design, and they were durable and portable. They were a wonderful medium of exchange, long before currency came in." Often bartered for spices, sandalwood, and slaves ("a disturbing history, unfortunately"), the fabrics also found favour with colonisers. "When the Europeans came here, they found an insatiable appetite for Indian cloth in South and South-east Asia. They realised that these places did not care for bullion; they wanted Indian cloths."
Textiles for trade
Ebeltje Hartkamp-Jonxis, former curator of textiles at Rijksmuseum, in Amsterdam, who retired in 2009, has written the catalogue for the exhibition, which focuses on the textiles traded to the West. In the city for the exhibition opening, she says, "As Europeans, we are burdened by our colonial history. But, I love the East and the West, and they meet on these textiles. Many of the European textiles in the TAPI collection are actually from Holland. Surprisingly, Indian chintzes (kalamkaris) were very popular in local costumes there, and they were fascinated by the colours and the motifs on them." In the 18th century, kalamkari gowns and coats were even part of the street style in the Dutch town of Hindeloopen.
But, its popularity was trailed by trade bans. Indian chintzes were declared illegal in France in 1686. With the Calico Act, England followed suit in 1700. "The Calico debates were some of the earliest arguments for economic liberalism," says Shah. "These textiles were the catalyst for the Industrial Revolution. James Hargreaves's spinning jenny and Richard Arkwright's water frame were all textile innovations. They were to compensate for the failure of the domestic industries, as a result of Indian imports."
It was the kalamkari's mordant and resist-dyeing technique, which took all the East India Companies by surprise. There's a saying in Gujarati about it: 'phatay pan phitay nahi'; tear it may, but fade it won't. Even after repeat washes, the red buds and indigo veins of kalamkari flowers never lost their colour. "In Europe, there was linen, wool and silk, of which only linen could be washed, and silk was for the very rich," says Hartkamp-Jonxis. "So, it was something quite new. It was only in the course of the 18th century that a French chemist found out the technique and imitated it. But in India, the technique really existed since Mohenjo-daro." Here, the 10-step dyeing process was passed down from father to son, but the Europeans were able to reverse-engineer the process. Shah says, "It isn't wrong to say that those were some of the earliest cases of industrial espionage."
To see the exhibition in its entirety, it is clear that there is more than one reason why India led the world in textiles. "India is the birthplace of cotton," says Shah. "In 2500 BCE, they found spindle whorls and needles. Around 1700 BCE, they found dyed cotton. We had the knowhow, the creative genius, the entrepreneurial abilities, the design, the dye technology, the very advanced knowledge of chemistry, which was empirical. We had the coasts for the trade, the fertile soil for the dyes, and we had a great imagination. We had everything." She continues this thread. "Textiles are our second skin. When we are born, we are swaddled in them; when we die, we are shrouded by them. They're a part of our identity. And, they're also a testament to our heritage. So, how can people not know? I want as many people as possible to come here. And, if they come away thinking, 'It's nice that we're part of this amazing country,' it's a real ego boost, I have to say."
Where: CSMVS
Duration: Till March 15