Maharashtra: Wardha saw 11 'no Covid vaccination' days in July
Published on Jul 29, 2021 11:46 PM IST
An analysis of the data shows the district is recording severe inconsistency in vaccination since July 9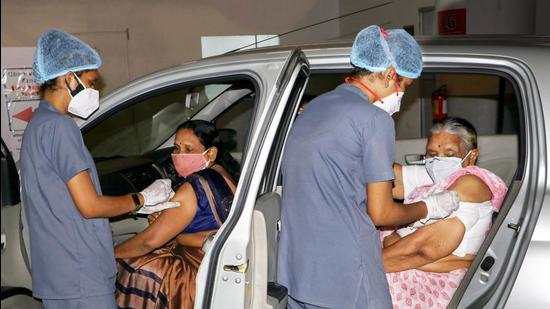 While the state is being appreciated nation-wide for administering over 47 million vaccine doses, the highest in the nation, a few districts are lagging behind in vaccination, with Wardha topping the list.
Data from the state shows Wardha is the only district to record zero immunisation on 11 days in July. The public health department has attributed it to unavailability of vials.
An analysis of the data shows the district is recording severe inconsistency in vaccination since July 9. This has turned into a nightmare for residents who either have to return without vaccination as the centres remain closed or wait for hours in a queue to get inoculated due to overcrowding.
On July 1, 1,481 vaccinations were recorded, which dropped to 177 on July 3. It increased to 1,483 on July 4 and jumped to 5,464 on July 5. The next day, 3,206 vaccines were administered, which dropped to 34 on July 7. On July 8, as many as 11,970 people were inoculated. But for the next three days, the district registered zero vaccination. On July 12, 13,454 inoculations were done— the highest recorded so far in July. The next two days, the district had zero vaccination. Again, on July 15, 9,944 were administered vaccine doses, which was followed by zero vaccination on July 16. In the following days, between July 18 and 26, 200, 20, 0, 11,019, 0, 14,267, 0, 11,860 vaccine doses were administered, respectively. In the past two days, the district again recorded zero vaccination.
The district health officer (DHO) of Wardha has blamed shortage of doses. Every week, they receive 2-3 consignments – on an average, with 9,000 and 15,000 vials per delivery. "We don't stock the vials. As soon as we get the vials, we vaccinate people the next day. At present, I have 18,000 vials, which will be used up in a day. I will then have to wait for another two days to get the vaccines," said Dr Ajay Davale, DHO, Wardha. "This also helps us to save wastage."
As per Census 2011, the district has a population of 1.3 million with 71% residing in tribal areas. This month, till July 28, the district has administered 104,699 vaccine doses. Other districts with similar or lower population have performed better in the mass immunisation programmes. For instance, Bhandara, with a population of 1.2 million, has administered 107,481 vaccine doses between July 1 and July 28. Similarly, Gondia with the same population as Wardha has recorded 148,274 vaccinations during the period.
A senior public health officer talking about the discrepancy in the distribution of vaccines said their priority is districts with higher positivity rate like Beed, Sangli, Kolhapur. "The vaccines come from the central government, so we have no control on it. We have to use it reasonably. At present, on an average, the district is getting 10-12 new Covid-19 patients. The positivity rate is below 1%. So, we are diverting the vials to districts with higher infection rate," said the officer.
In the district, around 370,000 have taken the shots, of which 114,000 have been administered both the doses.
Health activists said stock shortage discourages people from taking the jab. "There is so much confusion among people about where and when to get inoculated. The beneficiaries have to keep checking availability of vials daily. Also, on days of vaccination, most centres get overcrowded which not only makes them vulnerable to contracting the infection, but is also physically straining," said Subodh Mahire, a local activist.
Personalise your news feed. Follow trending topics