Why nights are a lovely time to walk in the city
Nov 27, 2022 12:16 AM IST
As for the afternoon, most of the city agrees with the dictum that only madmen and Englishmen go out in the sun; and of course, the poor who have no choice about the time when they walk or work
The time of day that you go for a walk defines the kind of person you are. The uncle or aunty who goes for a walk in the morning is a very different person from the uncle or aunty who takes an evening walk.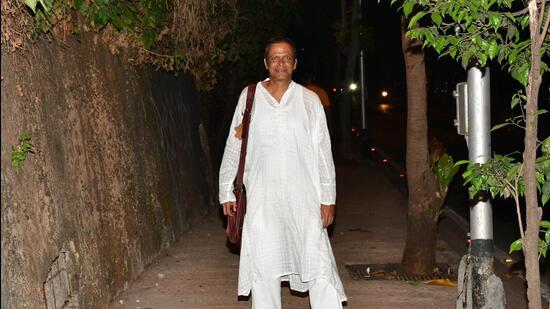 The morning walker is likely to be driven by a belief in the health benefits of walking and puts some energy into the building up of muscle and mobility; the evening walker is likely to be driven by a belief in the health benefits of talking and puts much energy into dissecting the state of the nation. As for the afternoon, most of the city agrees with the dictum that only madmen and Englishmen go out in the sun; and of course, the poor who have no choice about the time when they walk or work.
As for walking in the night? The term 'nightwalker' does not have a healthsome ring to it, does it? Not the kind of person who is counting calories or building networks that will delay senescence, wouldn't you say? Something wrong there, something strange. And yet it is a lovely time to walk the city. The first time I did this, I had to. I simply did not have the money to go home, having spent all on a book.
I was in Byculla—I had bought this one at Pop's who had a hole in the wall near Christ Church—and had to get back to Mahim. I took the BEST bus route (1 or 4 Ltd), straight down up to Dadar Tram Terminus, now Khodadad Circle, over Tilak Bridge, and then on to the home stretch. It was eight pm when I started and nine thirty by the time I got home. This was the time before mobile phones and I didn't have money to stop and make a phone call from a public call booth either. So my father was worried sick and I caught Hell for that but I had my book and I had had my first night walk.
I didn't think I would do it again because I was so tired but then it began to become a habit. Sometimes it would be a post-prandial dinner walk, necessitated by one too many spare ribs. Sometimes it would be a walk from the NCPA, arguing the merits of a play or a performance with a friend who stubbornly refused to see how wrong s/he was and how right you were. Sometimes it would be a way of slowing time down: having met a friend and dined, one did not want the day to end, one did not want the friend to go away and so one suggested a walk… There are also times when one simply wants to be alone and perhaps this is what makes the world suspicious of the nightwalker. What does this rejection, even if a temporary rejection, of the social network mean? Why is he alone and palely loitering? The male pronoun is apposite here.
Women do not walk alone by night. Not even in this city which is held to be the safest of Indian cities for women. A woman alone at night is likely to be seen as a sex worker.
But the city also has its religious side and it also has a tribe who walk by night, motivated by the desire to propitiate the Gods. Thousands of the faithful begin walking late in the night on Monday to make it to an early Tuesday morning darshan of Lord Ganesha at Siddhivinayak Temple in Prabhadevi. Many of them walk barefoot. There are rumours of a film director who rolls all the way to present her latest release at the feet of the Remover of all Obstacles. The route seems well-marked and is lined by other people who are there to help. Some offer water, some offer tea. Some simply wave the walkers on. On the many occasions when my path has intersected theirs, I have noticed that few walk alone.
The men come in pairs or trios; the women in groups. I have never seen a woman walking alone. If I do, she is talking on her mobile phone, not making eye contact and walking fast. She is not enjoying the night breeze, she is not looking out for the few stars that may have cut through the murk. But now that I think about it, I rarely see many police personnel either. The traffic policemen have vanished leaving the world to men on motorbikes without silencers. There are no policemen either, except around the police stations.
Or are there? My young friend P had dinner with a friend at Phoenix Mills and they decided to walk home to Bhulabhai Desai Road. On the way, they were stopped by two men on a bike. The men were not in uniform but said they were policemen and asked for identification. P took out his wallet and showed them his student identity card. The 'policeman' took his wallet from him and looked carefully at his I-card. Then he extracted a five hundred rupee note from his wallet and handing it back, tapped his friend on the shoulder and the bike sped off. "It was the neatest scam I have ever seen," said P ruefully.
(This line comes from Kavi Neeraj: Rok saka hai kaun use jisne bas chalna hi seekha. Keep walking. Send in responses to jerrywalksmumbai@gmail.com. I will get around to answering soon.)