Will quit politics if proved I insulted Sambhaji Maharaj, says Ajit Pawar
Jan 04, 2023 11:56 PM IST
Ajit, staunchly standing by his comment, reiterated that it was far from insulting or controversial.
Mumbai: Amid the controversy over his remarks that Chhatrapati Sambhaji Maharaj was not a 'Dharmaveer' (defender of religion), opposition leader Ajit Pawar on Wednesday said that he was ready to quit politics if the BJP proved that calling the Maratha king a 'Swarajya Rakshak' (protector of independent state) was an insult to him.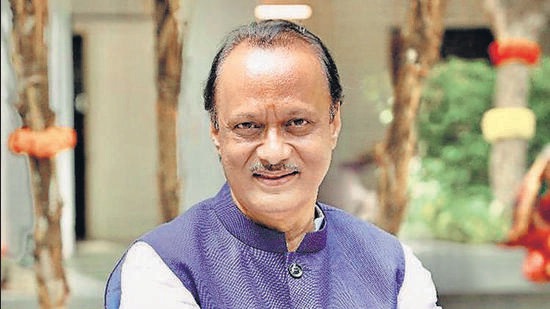 Ajit, staunchly standing by his comment, reiterated that it was far from insulting or controversial. Countering the BJP's attack, the NCP leader said that governor Bhagat Singh Koshyari, BJP ministers and MLAs and their spokesperson had made disrespectful statements against Chhatrapati Shivaji and other idols of the country, for which they deserve to be condemned.
The NCP leader also explained that calling Sambhaji Maharaj 'Dharmveer' would confine his cause to a particular community whereas 'Swarajya Rakshak' was a much wider realm—it referred to a person who protected the independent state formed by Chhatrapati Shivaji Maharaj, and covered all aspects such as the establishment of an independent state, society, culture and religion as well. Ajit chose to explain his statement a day after the Pawar family came out in his defence.
The controversy erupted last week when Ajit, speaking in the state assembly, said that Sambhaji Maharaj had never upheld dharma in his life and was never a dharmaveer but "some people" deliberately called him that. The BJP was up in arms, insisting that Ajit had insulted the Maratha warrior, and demanded an apology from him.
In response, Ajit on Wednesday riposted that the BJP was doing so to divert people's attention from the derogatory comments made by its own leaders. "They are trying to divert the attention away from the anti-BJP ambience which has come about on account of the insulting remarks by their elected representatives against our idols. Prove to me that I have said anything insulting about Maharaj and I am willing to quit politics," the senior NCP leader said in a media interaction.
Reiterating that there was nothing remotely derogatory in his statement, the NCP leader pointed out that the slurs to Maharashtra's idols actually came from the governor, BJP ministers, MLAs and their spokesperson. The reference was to various statements by BJP leaders in the recent past, particularly Koshyari's remark that Chhatrapati Shivaji was an idol of the past, and the state now had newer idols from B R Ambedkar to Nitin Gadkari.
The former deputy chief minister also pointed out that this was not the first time he had called Chhatrapati Sambhaji a 'Swarajya Rakshak'—all government orders issued in the past referred to him thus.