'Won't move no-trust motion but…': Sena rebel faction responds to Uddhav appeal
Published on Jun 28, 2022 08:01 PM IST
Maharashtra chief minister Uddhav Thackeray sought to strike an emotional chord, telling the rebel legislators that if they meet him in Mumbai, "some way can be found"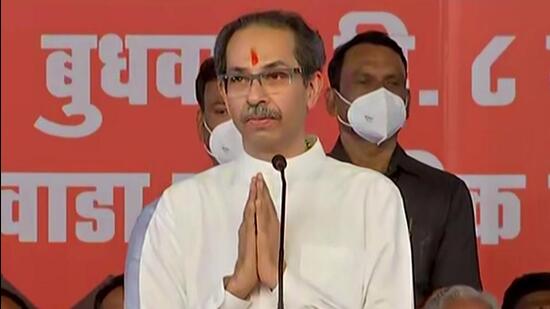 MUMBAI: After chief minister and Shiv Sena chief Uddhav Thackeray renewed his appeal to Sena's rebel legislators camping in Guwahati to return to Mumbai, leaders of the Eknath Shinde-led group demanded that Thackeray and the Shiv Sena first quit the Maharashtra Vikas Aghadi (MVA) government before the two sides can look at any possibility of rapprochement.
The rebel group, which has been exploring the possibility of returning to Mumbai this week, said they will not formally withdraw their support to the MVA government or move a no-confidence motion but will not support Thackeray if the opposition Bharatiya Janata Party (BJP) does so.
Also Read: A common thread through major revolts against Shiv Sena
"He (Thackeray) has made such appeals even earlier and issued a video statement. But how can he ask us to return when they (Shiv Sena) have not left the MVA?. There is no logic in this," Deepak Kesarkar, former minister and the group's informal spokesperson, told HT from Guwahati.
The outreach by the Shiv Sena president had come late in the day when "time was running out", Kesarkar said, a reference to Uddhav Thackeray's insistence that it was not "too late" and they should return to Mumbai and "sit with me and remove the confusion among Shiv Sainiks and the public.
"This is a psychological game. They want to show that we have expressed a lack of confidence in our own leader and inflame sentiments in Maharashtra. In any case, a vote of no confidence will have to be tabled and it does not matter who is doing it. We are not asking Uddhav saheb to quit as we are his partymen," claimed Kesarkar.
Kesarkar, however, indicated that if the BJP moved a no-trust motion against the Thackeray government, they would support the opposition.
"We will have to vote against the MVA government," he said.
The final decision on the rebel faction's strategy will be decided by Shinde, added Kesarkar, who represents Sawantwadi in Sindhudurg in the assembly.
The rebel camp is also unmoved by Uddhav Thackeray referring to himself as the "head of the (Shiv Sena) family" and asking the dissidents to return to start a dialogue to find a way out of the crisis. For this reconciliation to take place, it was essential for the Shiv Sena to quit the MVA, which also includes the Congress and the NCP.
Several rebel legislators said they decided to back Shinde over apprehension that back home in their constituencies, the Congress and the Sharad Pawar-led Nationalist Congress Party (NCP) were expanding their base. In most parts of the state, the Sena has traditionally been pitched against the NCP and Congress.
Sena leaders also complain that the NCP, which controls crucial portfolios such as home, finance, housing, water resources and rural development, seemed to get its way on issues such as allocation of funds for developmental works, transfers and postings. They also reiterated that the social and political support base of the Shiv Sena was often at odds with those of the two "secular" parties and claimed that the BJP, its fellow Hindutva co-traveller, was their "natural ally."
Close Story
Personalise your news feed. Follow trending topics