Covid vaccination drive resumes in Ghaziabad after arrival of 30,700 doses
Published on Jan 18, 2023 11:48 PM IST
Data from Ghaziabad health department shows that only 817,939 of 2,487,074 beneficiaries – or 32.88% – have received their precautionary dose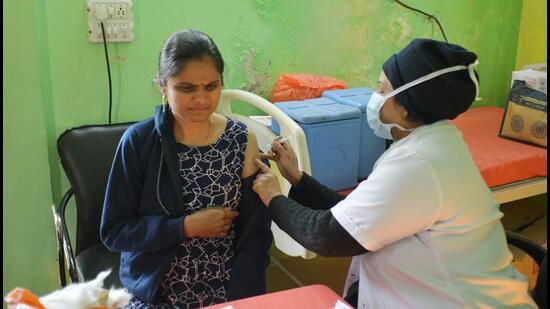 Nearly 23 days after the entire stock of Covid-19 vaccine in Ghaziabad district ran dry, the health department has received about 30,700 doses of Covishield vaccine on Tuesday night. With the arrival of the fresh stock, government vaccination centres once again started functioning on Wednesday.
According to officials, the district's stock of Covid vaccine got exhausted on December 26, and they sent a communication to the state health department requesting Covishield, Covaxin and Corbevax.
"We have received about 30,700 doses of Covishield and have started the vaccination process on Wednesday. Different community health centres, primary health centres and two district hospitals have started the vaccination process. Citizens who require Covishield as a first dose, second dose or precautionary dose can get the vaccine at our centres now," said Dr GP Mathuria, nodal officer for Covid vaccination.
The health department also issued a list of 57 government vaccination centres that include urban primary health centres, community health centres in Muradnagar, Loni, Dasna and Modinagar besides the two district hospitals of MMG District Hospital and Sanjay Nagar Combined District Hospital.
According to official data, Ghaziabad district had a target of vaccinating 2,844,305 beneficiaries since the Covid-19 vaccination programme started on January 16, 2021. The district surpassed this target by vaccinating 3,008,932 people with both doses (first and second dose) till January 6, the data shows.
However, the slow rate of administering precautionary dose and second dose to senior citizens in the 60+ years age group has raised concerns amid reports of a new Covid-19 strain spreading in China and other countries.
Data from Ghaziabad health department shows that only 817,939 of 2,487,074 beneficiaries – or 32.88% – have received their precautionary dose. Of a target of administering two doses to 361,791 beneficiaries in the 60+ age group, only 298,653 have received both vaccine doses.
Health experts said the administration of precautionary dose should be expedited considering the high pendency.
"The health department should expedite the administration of vaccine and also requisition more vaccine so that vulnerable groups like senior citizens and those having co-morbid condition get vaccinated. Local camps can also be held for increasing the rate of precautionary dose administration," said Dr Ashish Agarwal, former president of Indian Medical Association (Ghaziabad chapter).
According to the figures of the Co-WIN portal, about 320 doses were administered in the district on Wednesday.