Banda-Bahraich highway: Six dead after dumper runs over people
Published on Jan 12, 2023 01:08 AM IST
Six of the same family died while four other people were critically injured in a tragic road accident after a dumper ran them over at a roadside tea stall on the Banda-Bahraich National Highway, police officials said on Wednesday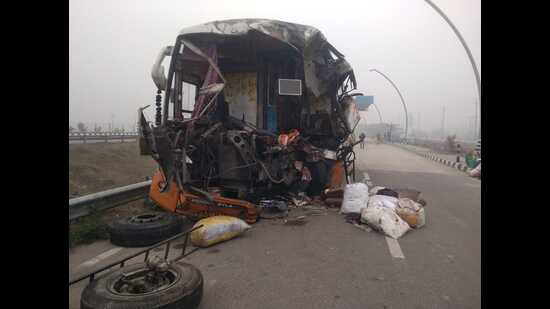 Six of the same family died while four other people were critically injured in a tragic road accident after a dumper ran them over at a roadside tea stall on the Banda-Bahraich National Highway, police officials said on Wednesday.
The deceased have been identified as Lalai, Santosh Kumar, Ravindra Kumar, Shiv Mohan, Gutku, and Lallu Prasad.
The police reached the spot, took the dumper driver into custody and with the help of the local people took the injured for treatment.
Mala Srivastava, district officer, who reached the spot said, "The reason for the accident was dense fog. Due to dense fog, the driver could not see and the accident happened."
Uttar Pradesh minister Dinesh Pratap Singh met the accident victims' families and assured them of providing help from the government.
He also gave directions for quick and proper treatment of the injured.
Several injured in Agra-Kanpur highway pile-up
Several people were injured after half a dozen vehicles piled up due to low visibility amid dense fog on the Agra-Kanpur National Highway on Wednesday, said police.
The vehicles included trucks, buses and cars, added police.
An Uttar Pradesh State Road Transport Corporation (UPSRTC) bus en route from Etawah to Mathura, carrying around 50 passengers, was also part of the pile-up. No casualties have been reported so far.