Ludhiana: Taxi operators oppose Punjab govt's new vehicle scrapping policy
Jan 14, 2023 11:55 PM IST
Taxi operators in Ludhiana are opposing the policy claiming that it will only benefit corporates by providing them licence for vehicle testing centres and scrap centres in the state
Taxi operators in Ludhiana are opposing the Punjab cabinet's new vehicle scrapping policy, claiming that it will only benefit corporates by providing them licence for vehicle testing centres and scrap centres in the state. The policy focuses on scrapping eight-year-old transport and 15-year-old non-transport vehicles.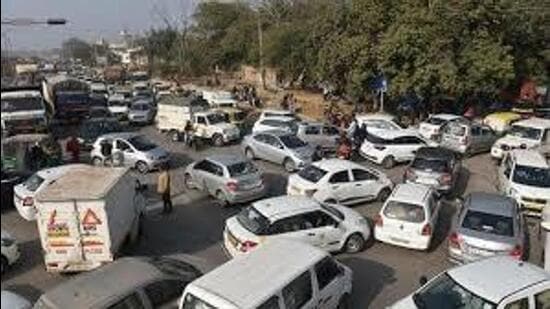 Azad Taxi Union Punjab president Sharanjit Singh Kalsi said, "The new policy will benefit the Society of Indian Automobile Manufacturers (SIAM) and the Federation of Automobile Dealers' Association( FADA). This policy has been sent from Delhi by Arvind Kejriwal to benefit corporate houses."
Kalsi claimed that the policy was formulated after an agreement between the owner ofLovely Professional University, who is also a member of the Rajya Sabha for the Aam Aadmi Party and a car dealer, and the chairperson of FADA Punjab, who owns Dada Motors.
The union warned that they would protest in front of the chief minister's residence against the policy.
State transport commissioner Punjab Moneesh Kumar said, "A streamlined process is followed for obtaining a licence for a scrap center, and any claims to the contrary are unfounded. The appropriate procedures need to be followed to secure this licence."
"Under this policy, vehicle owners will have the option to bring their cars to scrap dealers empanelled by a state-established authority. In return, apart from the scrap value of the vehicles, they will also get a rebate of 15 to 25% in road tax for purchasing a new vehicle," said Kumar.
The scrap dealers would give a deposit certificate to the owners making them eligible for tax rebate. This policy is in consonance with the guidelines of the ministry of road transport and highways of the Government of India, he added.
A taxi driver from Ludhiana, Harmanjot Singh, said, "Deliberate pressure is being put on the officials of the transport department through Vigilance Bureau so that the government does not have to recruit motor vehicle inspectors and regional transport officials."