Bihar: Kushwaha's cryptic comment fuels speculation about 2nd deputy CM
Jan 11, 2023 12:10 PM IST
People aware of the matter said the possibility of Kushwaha's induction as the deputy chief minister cannot be ruled out as it will help Kumar mollify his colleague
Ruling Janata Dal (United) or JD (U) leader Upendra Kushwaha has fuelled speculation about his elevation as Bihar's second deputy chief minister with a cryptic response to the question about it.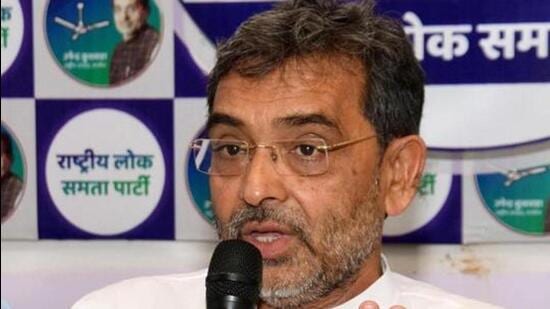 "I am not an ascetic in a temple," Kushwaha told a news channel on Tuesday when asked whether he was a probable candidate for the post in the state's JD (U)-led alliance government. "But chief minister Nitish Kumar will take a call. He has to decide."
People aware of the matter said the possibility of Kushwaha's induction as the deputy chief minister cannot be ruled out as it will help Kumar mollify his colleague. Kushwaha is believed to have been sulking over his exclusion from the government.
Tejashwi Yadav is Kumar's deputy and the number two in the government that was formed after JD (U) ended its alliance with the Bharatiya Janata Party (BJP) last year and allied with Rashtriya Janata Dal (RJD), Congress, and the Left parties.
"The possibility of some reshuffle is possible. But much would depend on whether the RJD, being the biggest partner in the alliance, would accept a second deputy chief minister," said a leader of the ruling alliance, requesting anonymity.
A Cabinet expansion has been on the cards to fill vacancies amid signs of friction between the RJD and JD (U). The friction resurfaced when RJD lawmaker Vijay Kumar Mandal hit out at Kumar over allegedly failing farmers, corruption, and unbridled powers of bureaucrats.
RJD leader and former minister Sudhakar Singh's attacks on Kumar earlier prompted the JD(U) to seek disciplinary action.