Abdul Sattar's ministerial berth in question over TET rigging claim
Published on Aug 09, 2022 01:01 AM IST
As Nationalist Congress Party (NCP), Congress and Shiv Sena are demanding a probe against Abdul Sattar in Teachers Eligibility Test (TET) scam, his chances of becoming a minister in the cabinet expansion of Eknath Shinde-led government in Maharashtra look uncertain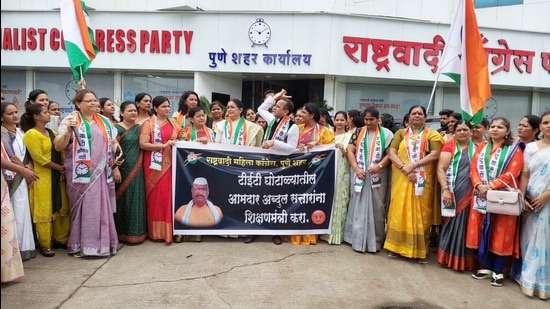 As Nationalist Congress Party (NCP), Congress and Shiv Sena are demanding a probe against Abdul Sattar in Teachers Eligibility Test (TET) scam, his chances of becoming a minister in the cabinet expansion of Eknath Shinde-led government in Maharashtra look uncertain.
Among the 7,880 candidates that the education department disqualified and barred from reappearing in TET held in 2020 for alleged malpractices, four are children of former Maharashtra minister Sattar
NCP workers staged protests in Pune on Monday and demanded action against Sattar.
Pradip Deshmukh, NCP spokesperson, took a dig at Sattar and said, "He should be offered the education minister's post."
Congress leader and former chief minister Prithviraj Chavan also demanded stern action against Sattar.
Sattar on his part has denied all the allegations and demanded a probe into the scam.
Shiv Sena's legislator from Aurangabad Ambadas Danve said, "The TET scam must be investigated thoroughly and action should be taken against those involved. This case emerged when Sattar was a minister."
Sattar was a minister in the Uddhav Thackeray-led Maha Vikas Aghadi (MVA) government. He was the first to switch his loyalties to the Eknath Shinde camp. Three times MLA, Satar who joined Shiv Sena in 2019 after quitting Congress, took extra efforts to garner support from MLAs from Marathwada to join Shinde camp.
Personalise your news feed. Follow trending topics