Aspirants spent night on footpath to appear for police recruitment
Jan 31, 2023 11:02 PM IST
Four youngsters who came from Solapur on Monday and had to report to the ground at 7 am on Tuesday decided to sleep on the footpath outside the ground
Pune: Aspiring to get a job with the Pune police department, many applicants spent the whole night on a footpath before appearing for a police recruitment drive at the Pune police ground on Tuesday.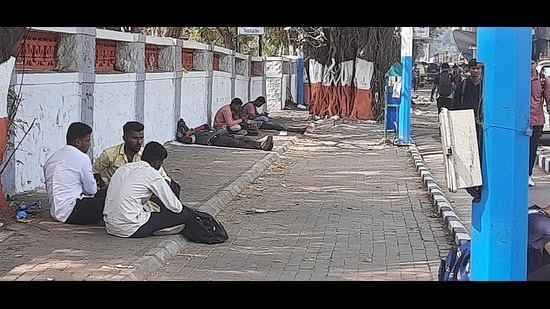 Several applicants slept outside of the Pune police ground in Shivaji Nagar waiting for their turn to take tests for an ongoing police constable recruitment drive.
Four youngsters who came from Solapur on Monday and had to report to the ground at 7 am on Tuesday decided to sleep on the footpath outside the ground.
"We cannot afford to stay in a hotel or lodge as we don't have that much money. So, we had no option but to sleep on the footpath and appear for recruitment. Few of our friends have their relatives in Pune so they decided to stay with them," said the applicant who did not wish to be named.
"Thankfully, it wasn't very cold at night, so we didn't have any problems spending the night on the footpath," said another applicant.
"Getting selected is our priority," he added.
The ongoing recruitment drive is for 720 police constable posts and 75 police constable driver vacancies.
The police recruitment drive started on January 3 and will be concluding on February 27.
"We are calling 2,000 applicants at the ground every day out of which 1,200 are coming daily. We will be calling 2,500 aspirants every day beginning next week. "So far, out of 18,000 applicants, 12,000 have attended the selection process," said DCP Rohidas Pawar, who is in charge of the drive.