Cases of viral infections on the rise in Pune, doctors attribute it to weather fluctuations
Jan 07, 2023 11:04 PM IST
In the last two weeks, doctors in the city have reported a rise in viral infection cases, especially among high-risk patients like senior citizens and children
In the last two weeks, doctors in the city have reported a rise in viral infection cases, especially among high-risk patients like senior citizens and children. Many patients are complaining of dry cough, cold, viral fever and vomiting. According to doctors, this is due to fluctuations in weather conditions.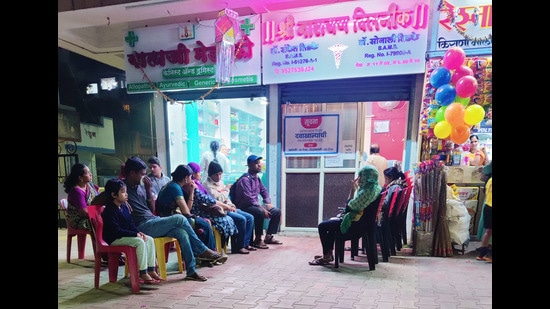 Dr Samrat Shah, internal medicine expert, Apollo Spectra, Pune, said that as the season changes, there is a sudden burst of infections, especially viral infections.
"However, compared to the previous years, more patients are coming with colds, coughs, indigestion and fever this year. So, if the cold, fever and cough persist for more days, do not ignore them and consult a doctor immediately. Infectious diseases can increase if citizens are not careful during winter.''
Dr Jagdish Kathwate, consultant neonatologist and paediatrician, Motherhood Hospital, Kharadi, said during winter time diseases are more common because infectious respiratory droplets travel more easily in dry air when a sick person coughs or sneezes.
"We have been observing six to eight cases. Additionally, individuals commonly congregate indoors during cold weather (particularly around the holidays), which makes it easier for diseases to spread from one person to another," said Dr Kathwate.
Sharing more insights, Dr Suruchi Mandrekar, consultant, internal medicine, Manipal Hospitals, Baner, said that climate change affects human health in a variety of ways.
"In the last few days, our hospital has seen an increased number of viral infections where almost five out of ten patients coming in our OPD suffer from viral fever and secondary infections. Therefore, it is important to remain cautious during the change of season. One must wash hands often with soap and water, and avoid crowds during the cold and flu season. Apart from that, good oral hygiene can also protect from germs in the mouth leading to infections. It is also advised to get vaccinated every year against influenza," said Dr Mandrekar.
Dr Sachinkumar Dole, professor at the respiratory disease department of Dr DY Patil Medical College, hospital and research centre, said that weather fluctuations like changes in temperature, and relative humidity increases viral activity and transmission which brings humans especially children and senior citizens into contact with pathogens to which they have had less exposure and immunity.
"All the common respiratory viruses replicate best at a temperature between 32 degrees Celsius and 34 degrees Celsius causing mild illness that allows the patient to continue to function normally and go to school and work and interact socially with others, and therefore effectively spread the infection. Hence, many doctors from the city are reporting an increased number of patients with prolonged cough, especially in children and senior citizens," said Dr Dole.