Housing society sends notice to PMC for painting wall without permission
Published on Jan 12, 2023 12:11 AM IST
If PMC can fine a person who does not follow rules, then the same applies to PMC, Swapnashilp society office-bearer said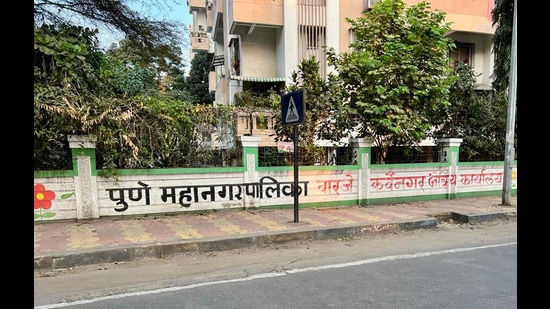 Swapnashilp Housing Society in Kothrud served a notice to Pune Municipal Corporation (PMC) administrator Vikram Kumar after the Karvenagar ward Office painted the residential complex wall without permission.
The letter sent to PMC stated, "We are a society of 484 flats, and we pay around ₹50 lakh tax to PMC. On the west side of our society, there is 400 feet long and seven feet high wall. Without the society's permission, the Karvenagar Zonal Office of the Pune Municipal Corporation painted the wall. According to the 2003 PMC advertisement policy, the owner's Non-Objection Certificate (NOC) is mandatory before painting a wall otherwise PMC can impose a fine on the person who has painted the wall."
"If PMC can fine a person who does not follow rules, then the same applies to PMC. After serving notice to PMC, they have given written assurance of repainting the walls but at the moment they don't have the provision of doing the same," said Prashant Bholagir, secretary, Swapnashilp Society in Kothrud.
A letter from Warje, Karvenagar Zonal office is with HT, which stated that "under the guidance of the central government, state government and PMC we are beautifying the city. We paint the wall with social awareness messages for the general public as part of the beautification programme. PMC is not making any money from this activity."