KBCols Sciences, Hygienity Solutions from Pune bag National Startup Awards 2022
Jan 16, 2023 11:37 PM IST
These two startups along with seven others from Maharashtra were conferred with the award at the hands of Union Minister for Commerce and Industry Piyush Goyal in New Delhi on Monday
City-based KBCols Sciences, a bioprocess tech startup founded in 2018 by Vaishali Kulkarni and Arjun Singh Bajwa; and Hygienity Solutions, an environment sanitation startup founded in 2021 by Vipul Ganesh Chavan and Adwait Joshi have bagged the 'National Startup Award 2022'. These two startups along with seven others from Maharashtra were conferred with the award at the hands of Union Minister for Commerce and Industry Piyush Goyal in New Delhi on Monday (January 16).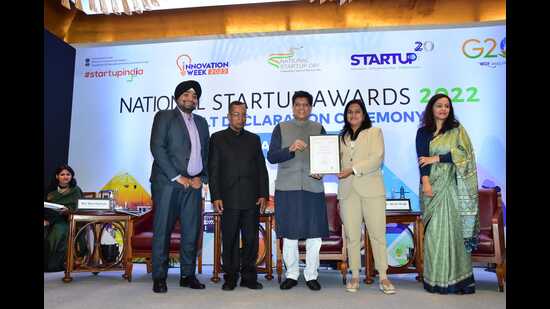 Dr Vaishali Kulkarni, co-founder of KBCols Sciences, said, "National startup award is a great motivation for us and token of appreciation for KBCols Sciences. Awards like these put a certain faith in the company."
Speaking of the application process, Dr Vaishali informed, "In March 2022 we submitted the online application. Subsequently, we had three evaluation rounds. In November 2022, we were informed about the selection in the final round for the sustainable industrial solutions category. We had then given an online presentation to the jury and the results were declared today in the ceremony."
A total of 2,667 applications were received from startups, incubators, and accelerators from 31 states and union territories across the country. These applications were screened and evaluated by more than 50 jury members. These jury members include senior government officials, venture capitalists, startup CEOs, industry stalwarts, and renowned educationists, among others. In this third edition, 41 startups, 2 incubators, and 1 accelerator were recognised as winners in their respective categories. The winning startups (per category) will be awarded ₹5 lakh each, and the winning incubator and accelerator will be awarded Rs15 lakhs respectively.