Street play competition on student issues held in Pune
Updated on Nov 24, 2022 12:47 AM IST
To create awareness among students regarding the current issues, an inter-college street play competition was held at Mitra Mandal's College of Engineering, Karvenagar on Wednesday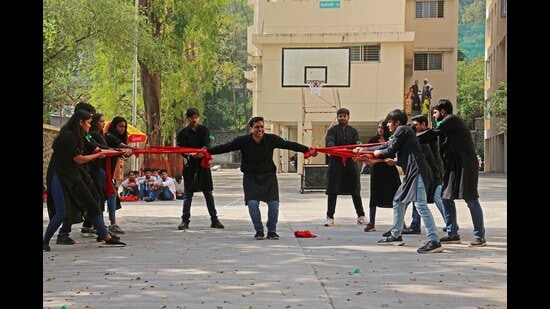 To create awareness among students regarding the current issues, an inter-college street play competition was held at Mitra Mandal's College of Engineering, Karvenagar on Wednesday.
Plays were performed related to peer pressure on students, educational equality, suicide awareness and ragging in college campuses. Colleges from Pune and Pimpri-Chinchwad participated in this street play competition.
The competition was organised by Edwise Overseas Education Consultancy in collaboration with the Marathwada Mitra Mandal's College of Engineering (MMCOE) at their Karvenagar campus. The main topic for the street play competition was problems faced by today's youth and the participant colleges had to take up one major issue to create awareness through their street play.
Eight colleges participated in the competition and MIT College, Alandi emerged as winners. The performed a street play on 'Dreams vs Responsibilities'. The
first runner was Mitra Mandal's College of Engineering and second runner was Institute of Management and Entrepreneurship Development (IMED), of Bharati Vidyapeeth University.
"Through such competitions, it is necessary to raise awareness regarding the current issues which are faced by students, and it is impactful, when they themselves perform it. We got a good response and all the participated colleges performed well, next year there will be more participants," said Prof Pradip Tamkhade, organiser of the competition and MMCOE Dean of Student Affairs.
Personalise your news feed. Follow trending topics