Rare Himalayan Worm Snake rediscovered in Uttarakhand
Sep 14, 2017 05:59 PM IST
Indian scientists have re-discovered a rare snake in Uttarakhand which could unveil the evolutionary link between India, Sri Lanka and Myanmar.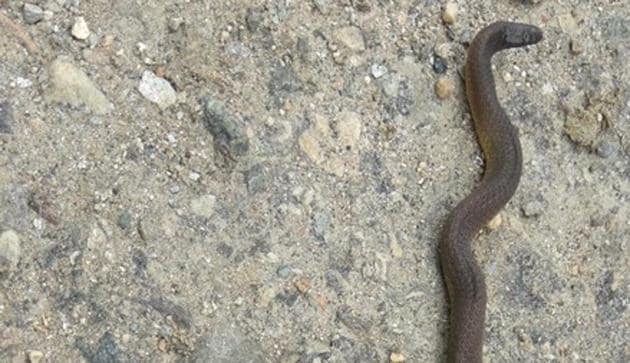 Himalayan Worm Snake (Trachischium laeve) also known as Olive Oriental Slender Snake was spotted at Natin village in the Uttarkashi district in June this year. The snake was only described by a scientist Frank Wall in Nainital's Mukteshwar in 1911 but no specific location was mentioned or documented.
Experts claim that the snake which belongs to Trachischium genus has sister genus Blythia that is found in Myanmar and another Aspidura in Sri Lanka. All three genus show stark resemblance and so, the difference in their presence in different geographical areas raise many questions about the evolution of the specie and also of these countries.
"It's interesting how three genus were separated over a span of million years. An in-depth study on Himalayan Worm Snake could help us found the evolutionary link between the three countries," Abhijit Das, scientist at the Dehradun based Wildlife Institute of India (WII) told Hindustan Times.
The Trachischium genus has five species in India of which four belongs to Eastern Himalayas (North East states) while Himalayan Worm Snake is the only specie found in Western Himalayas. There are not many studies on the species found in north east region.
Das found the snake while studying impact of climate change on Herpetofauna (reptiles and amphibians) as part of a environment ministry study under the National Mission for Sustainable Himalayan Ecosystem (NMSHE).
The Himalayan Worm Snake is less than 30 centimetres long and like other members of the family, it is a burrowing snake. Experts inform that the historic significance of this snake is greater than other common snakes like King Cobra, Pit Viper.
The snake is found in Himalayas and is inoffensive and non-venomous. It feeds on ants and their eggs and generally expose during monsoon.