Donald Trump: If he's bad for the US, he's bad for us
Trump is bad for India because he is bad for his own country, and the wellbeing of the US is now closely connected to our own.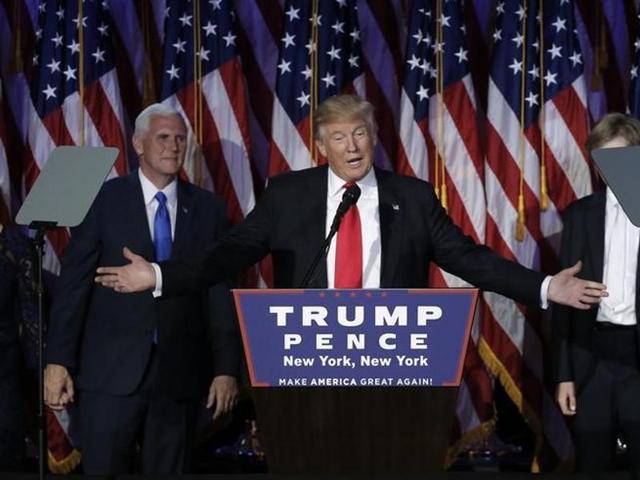 Updated on Nov 09, 2016 07:24 PM IST
Evolution has programmed human beings to be optimistic: in a planet where death stalks us in so many shapes – from tiny microbes, to giant volcanoes – our species would not have lasted very long if we were unable to persuade ourselves that, all evidence to the contrary, there's always reason to hope.
So you can blame the primal, survival instinct for your need to imagine favourable outcomes from the US presidential elections, which have placed the world's greatest power in the hands of Donald Trump.
Perhaps, we allow ourselves to fantasise, he will be good for India because his unalloyed Islamophobia will make him the enemy of our enemy, Pakistan. Or perhaps it is his Sinophobia that will work in India's favor, by putting our great economic rival on the back foot. Or just perhaps, his Hispanophobia would make him more welcoming to immigration from India, since he doesn't, so far as we know, think we are all rapists.
But the same forces of evolution that made it possible to step out of our caves in confidence also ensured that we recognised danger when we saw it – that, for instance, the large four-legged creature with striped skin and sharp teeth is not our friend, even if it is not currently looking malevolently in our direction. That Trump has directed his bile-heavy rhetoric at others, and occasional honey-coated words at us ("I love the Hindus!") should not conceal the danger he represents.
Watch Hindustan Times editor-in-chief Bobby Ghosh talk about the US elections
An Islamophobe is bad for India, not least because Islam is one of India's faiths, practiced by 15% of its people: anyone who seeks to harm Muslims seeks to harm 150 million Indians. A Sinophobe is bad for India because China is a pillar of the global economy, of which this country is now a part. A man who harbors racist views about one set of brown people – Latin Americans, say – is unlikely to think well of others.
But perhaps most important, Trump is bad for India because he is bad for his own country, and the wellbeing of the US is now closely connected to our own. There is every indication that his leadership will harm American interests, at home and abroad. Even the attempt to keep some his more outlandish promises – to build a wall along the border with Mexico; to tear up defense treaties with NATO, Japan and Korea; to reverse policies designed to forestall climate change – will weaken the US, just when India's ties to it are at their strongest.
Video | Trump's best quotes from the election campaign
There is a meme in some political circles that President George W Bush did well by India even though he did poorly by the US, but this is an extremely narrow view. If India prospered during the Bush years, it was despite rather than due to the damage he did to his own country, and to the world order.
As a thought experiment, take away the impact of Bush's worst policies – surging oil prices, for instance – and imagine how much better off India might have been without them. And that was then: in the eight years since, the Indo-US economic and security relationship has deepened, giving India a much greater stake in American well-being.
As evolution does to individuals, diplomacy obliges nations to be optimistic, and so Prime Minister Narendra Modi cannot but congratulate Trump for his victory, and express hope that Indo-US relations continue to prosper under the new President. But Modi, a man of sharper survival instincts than most, will know that if Trump is bad for the US, he is bad for us.
(Bobby Ghosh is editor-in-chief of Hindustan Times. He has spent over two decades covering international affairs, including long stints as correspondent and editor in the Middle East, Asia, Europe and the US. He tweets as @ghoshworld)
Close Story