IPL in the times of drought: India's tale of many miseries
If an active cricket ground exists, it would be watered on most days of a year, or it would die. So why this fuss before the tournament?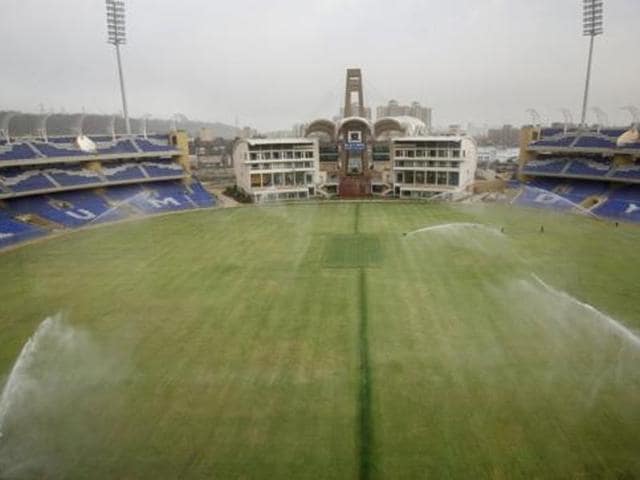 Updated on Apr 11, 2016 07:42 PM IST
All of good life is vulgar when there is misery around. Feasting in the sight of urchins, for instance, or kissing on the street in a nation starved of feasts, love, sex and foreplay. In the same category of vulgarity is the watering of cricket grounds in a state where there is a drought. It deserves lament, perhaps in a sweet mediocre collegiate poem. But to take the matter to court is out of proportion.
The pubic interest litigations against the hosting of a cricket tournament in Maharashtra have fanned a moral outrage that is, like many urban moral outrages, a confluence of serious concerns, contempt for a wealthy organisation, pious exaggerations, irrational arguments and personal agendas.
The issue before the Bombay High Court was that Maharashtra should not be allowed to host the Indian Premier League matches because cricket grounds consume thousands of litres of water every day in maintenance. The court saved Saturday's inaugural match but asked, probably with anger, "Are cricket matches more important than people?" Now, the Board of Control for Cricket in India is a despicable private club of industrialists and politicians, but the court's question was hyperbolic. Also, people matter to the board because that is how it makes money.
And what exactly is the reasoning of the court? Is not an international-grade cricket ground maintained when there is no tournament underway? If an active cricket ground exists, it would be watered on most days, or it would die. So why this fuss before the tournament? Also, the calls for the cancellation of matches are comical for a simple reason — it is on the days of the matches that the grounds are not heavily watered.
Read | Tackling drought is state's responsibility, not cricket board's
The water that is used on an Indian cricket field, according to an official, is about 15,000 to 20,000 litres of non-potable water a day, or less than five tankers. That is as much fresh water that is required to make one kilo of chocolate, according to the data of the Institution of Mechanical Engineers, a global network.
Sunil Gavaskar, whose relationship with the BCCI, it is reported, has collapsed and whose lucrative contract with the board may end, wrote in his column, "The issue of drought is one such where many lives are at stake." (True). "I am no expert on ground and pitch preparation…" (True) "…Nor do I know whether the water that will be saved if the matches are not played can be used to irrigate the lands that have become dry and parched." (It can't be used). He went on to suggest that the matches should be moved out of Maharashtra. "It is a small price to pay, for the alternative could well be unnecessary loss of lives of those whose hard work gives us our daily roti and dal."
This is a mystifying exaggeration — the suggestion that if matches are held in three cricket grounds in Maharahstra the lives of farmers would be at risk. But it is a popular view.
Read | No way we can do this: BCCI official on moving Maharashtra IPL matches
There is much veneration of farmers in India by those who are not farmers. These are the very people whose greatest fortune was that their grandfathers or fathers ejected their progeny from the agrarian economy. Most farmers in India have small land-holdings and they are doomed. The reason why most Indian farms are land waiting to become real estate.
If people really cared about water, all they have to do is adopt a healthy diet — quit eating red meat (just one kilo of mutton requires over 10,000 litres of water to produce, or half the quantity of water required by a cricket ground in a day), quit rice (one kilo of rice needs about 2,500 litres of water, but half of this does re-enter the hydrological system), wheat and sugar (about 1,000 to 1,500 litres for every kilo).
Read | Tea without sugar more effective than IPL ban
The human body does not require rice and wheat. In fact it does very well without grain. Rice and wheat are the staples of the world because they have been subsidised to be so. The world has promoted an unhealthy diet that takes considerable fresh water to produce. Add to it the evil called sugar, we have a species that sucks out water to eat poorly. The hypocrisy of those who are outraged by the watering of cricket grounds lies in their very paunches.
And, if people really care about poor farmers they would fight for a greater role of science. India is unable to experiment with biotech, which includes processes to create drought-resistant crops, because the Donald Trump of science, Vandana Shiv has maligned the technology.
It was inevitable that the talk of farmers and drought would bring up the outlandish hypothesis of "farmer suicides", first popularised by Shiva and later sustained by other noted activists, like P Sainath, because it aligned with their economic grouses. Let me repeat an assertion this column made earlier while arguing that farmer suicides are primarily a depression story where poverty only plays a role:
"In a country where most people can be termed 'farmers', it is not anomalous that most people who kill themselves would be 'farmers'. In fact, what is anomalous is that a huge majority of farmers who commit suicide are male. If both official and activist statistics are considered, it would appear that women in impoverished farming communities are among the least likely Indians to commit suicide. Activists who ascribe social, economic and political reasons for suicides would never be able to explain why.' In most nations of the world, including India, the number of men who commit suicide is several times more than the number of women. this pattern is reflected in the gender ratio of 'farmer suicides'.
But the idea that farmers commit suicide because of crop failure or loans or that India is not socialistic enough, is a beloved of activists. There is a book waiting to be written here if you are interested and may I suggest a title: 'P Sainath Loves A Good Farmer Suicide'.
Manu Joseph is a journalist and the author of the novel, The Illicit Happiness of Other People
Twitter: @manujosephsan
The views expressed are personal
Close Story