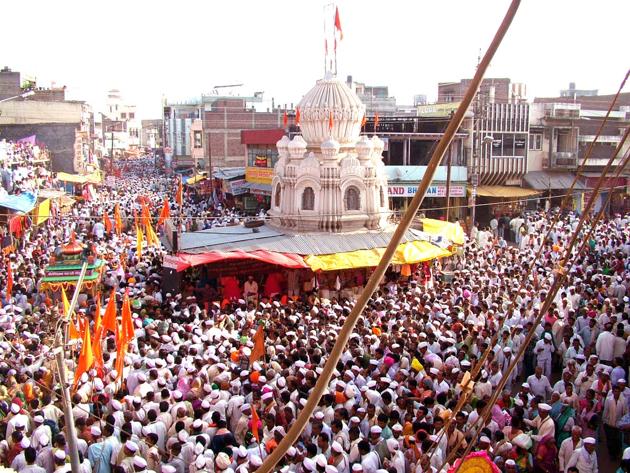 Many languages maybe, but a common prayer
The Naam Samkeertan tradition centred on Vitthala that originated with the great medieval Marathi saints, is hugely popular across the Deccan or Indian peninsula.
PUBLISHED ON FEB 02, 2018 12:18 PM IST
Sometimes it's the little things that unpack mountains of old baggage for you. Last week I went off as usual to my peaceful, no-fuss, neighbourhood temple to say "Thank you for everything" to God. My mother taught me this ritual, and the lamp-lighting habit and the practice of observing festivals, as sending "greeting cards to God". The priest, who had seen me quietly dart in and out for years, told me to help myself to the charanamrit. I did so and went away as absurdly pleased as any country bumpkin at a rural post office, back when the Republic was young, who was allowed to handle the sarkari seal used by the postmaster to stamp mail.
Then I thought of Vitthala Panduranga at the temple town of Pandharpur in Maharashtra. I haven't been there so far but I know Vitthala is identified with Mathura-Vrindavan, Tirupati Balaji and with each and every Krishna temple known to man. The Naam Samkeertan tradition centred on Vitthala that originated with the great medieval Marathi saints, is hugely popular across the Deccan or Indian peninsula, with electrifying songs in Marathi, Gujarati, Kannada, Telugu, Malayalam, Tamil and Hindi. In my view, 'you ain't seen nothin' yet' if you haven't seen four generations of hardcore 'Southies' at Tirupati or in the Kaveri Delta, totally rocking to the bhajans of Kabir, Meera, Purandaradas, Annamayya, Kulasekhara, Dnaneshwar, Tukaram, Chokhamela, Namdev, Janabai and reportedly even Nagore Hanifa, jumping up to clap and dance like you see in the north at Janmashtami. At such times, the cultural and spiritual unity that binds India seems outstanding, far outclassing the differences raucously emphasised by those with political and personal agendas.
For instance, anybody of any caste or creed can go right in to Vitthala Panduranga's temple at Pandharpur and place his or her head at the idol's feet and speak his thoughts to this darling among deities. It is called 'Padasparsha Darshan' and upholds Bhagvat Dharma or God's Way. It's one of the reasons why Pandharpur is called 'Dakshin Kashi' with the river Bhima aka Chandrabhaga that runs through it greatly revered. Indeed, the Chandrabhaga, the Tungabhadra, the great Godavari and Krishna, the Kaveri, the Mahabhaga or Periyar and other lovely rivers of the Deccan, starting, in fact, from the Narmada, are blessed names made trebly so by the roll-call of saints who lived by them, and the tirthas and kshetras made on their banks or even midstream like at Srirangam; while the devotion of millions of pilgrims down the centuries has reinforced the mystique of their deities and destinations.
Recalling that Vitthala's temple at Pandharpur was renovated in 1195 CE, which meant the site was holy long before the structure, I realized afresh what an amazing energy grid of dotted lines held up India and how one took its connectivity for granted. Somehow, the magnificent energy of the ancient Kanchi Kamakshi temple out south had flowed seamlessly into my tiny, functional Delhi temple, modestly built after the 'colony' came up post-Independence: for the word 'Kanchipuram' glowed in Devnagari on a wall-plaque while Vitthal-Rukmini smiled charmingly at everyone as Lakshmi-Narayan.
shebaba09@gmail.com.
Close