The man who brought Gandhi to Champaran
It's been a hundred years since Gandhi's first major political intervention on Indian soil – in the Champaran district of Bihar – where he spent several months fighting for the rights of the indigo farmers. But how did Gandhi come to Champaran?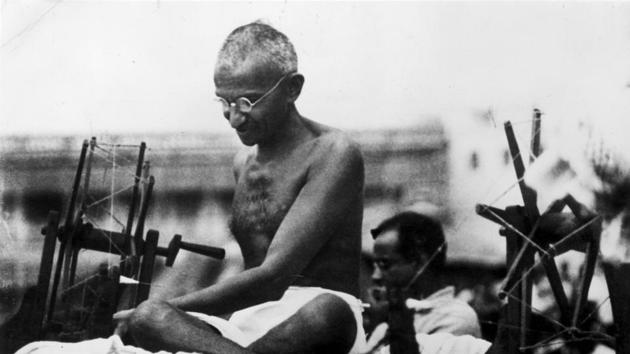 Updated on Apr 08, 2017 11:43 PM IST
This month marks the hundredth anniversary of Gandhi's first major political intervention on Indian soil – in the Champaran district of Bihar – where he spent several months fighting for the rights of the indigo farmers.
This month marks the 100th anniversary of Gandhi's arrival in the Champaran district of Bihar, where he spent several months, fighting for the rights of the indigo farmers. This was his first major political intervention on Indian soil, and has been written about in fine scholarly studies by, among others, B. B. Mishra and Jacques Pouchepedass.
The works by Mishra and Pouchepedass I have long known (and benefited from). However, recently a friend from Bihar sent me a fascinating new book, edited by Bhairav Lal Das, and entitled Gandhiki Ké Champaran Andolan Ké Sutradhar Rajkumar Shukla Ki Diary. The hero of this book is the man who brought Gandhi to Champaran. Born in 1875, Rajkumar Shukla owned a five acre plot of land, where – in common with other peasants in the region – he was forced to grow indigo.
In around 1907, along with another local activist named Sheikh Ghulam, Shukla started organising peasants on the question of the forcible cultivation of indigo. He sent petitions to the Collector, and even organised a strike, which ended with peasants being beaten up by the planters and the police. He also got sympathetic lawyers from Bihar's main town, Patna, to file court cases against the planters. In 1914, Shukla was briefly sent to jail for quarrelling with a European manager.
Discontent among the indigo peasants continued to simmer, especially during World War I, when the demand for the crop rose and the pressure on the peasants to grow it intensified. Shukla had written the occasional article for Pratap, a Hindi newspaper from Kanpur run by the crusading editor Ganesh Shankar Vidyarthi. It was Vidyarthi who first told him of Gandhi's work in South Africa with indentured labourers.
In December 1916, Shukla attended the Lucknow Congress with the Patna lawyers Brajkishore Prasad and Rajendra Prasad. They met the prominent Congressmen Bal Gangadhar Tilak and Madan Mohan Malaviya about the indigo question; but neither seemed inclined to take it up, thinking it a diversion from other, and to them larger, political questions.
However, one of the resolutions passed at the Lucknow Congress related to the conditions of indigo peasants in Bihar. Speaking on the resolution, Rajkumar Shukla said the European planters 'have become so powerful that they decide civil and criminal cases themselves and punish the poor ryots [peasants] as they choose.' Shukla continued: 'I do not know what I shall have to suffer when I go back to Champaran for my coming here and relating the story to you all'.
Gandhi had been asked to speak on this resolution, but he declined, pleading lack of knowledge. Afterwards, Rajkumar Shukla requested him to visit Champaran and study the condition of the peasantry at first hand. In one colourful account, Shukla seized Gandhi's legs and said (in Hindi): 'Please come to Champaran and save us peasants from the exactions of the indigo planters!'
Gandhi refused, politely, and proceeded to his next stop, Kanpur. Shukla followed him there: 'Champaran is very near here. Please give a day', he pleaded. Gandhi now said – perhaps out of courtesy rather than intention – that he would come when he was free.
Gandhi returned to his Ashram at Ahmedabad, to find 'the ubiqituous Rajkumar was there too'. He demanded that a date be fixed for the promised visit. Gandhi, now forced to commit himself, said he would be in Calcutta in April, and could come to Bihar then.
Once Shukla had settled on Gandhi as the leader he wanted, he was remarkably persistent. After he returned to Champaran, he wrote to Gandhi that "nineteen lakh oppressed subjects of Champaran are awaiting eagerly to have a `darsan' of your lotus feet and they have not hope but full belief that they shall be emancipated as soon as your honour will set foot in Champaran…".
Gandhi finally arrived in Champaran in the second week of April 1917. Entries in Shukla's diaries for April and May show how closely he assisted Gandhi during his visit, arranging meetings for him with local leaders, accompanying him to court, making provisions for his travel and stay. Eventually, Gandhi was able to win significant concessions for the peasants, these described in the aforementioned works by Mishra and Pouchepedass.
It was in Champaran that Gandhi first met J. B. Kripalani and Rajendra Prasad; and it was through his work in Champaran that Gandhi attracted the attention (and admiration) of Vallabhbhai Patel and Mahadev Desai. Kripalani, Prasad, Patel and Desai are all widely and justly honoured for their contributions to the freedom movement. But they might not have done what they did had a now obscure Bihari peasant not brought Gandhi to Champaran.
The Hindi word 'Sutradhar' is variously rendered as the 'threads that bind', 'stage manager', and 'host'. Rajkumar Shukla was all these, and more, to Gandhi in the first successful struggle he launched in his own homeland.
Close Story